X-Wing meets LEGO miniatures game Snap Ship Tactics releases a starter set into retail next month
Comes with versus, co-op and solo mode against a card-powered AI.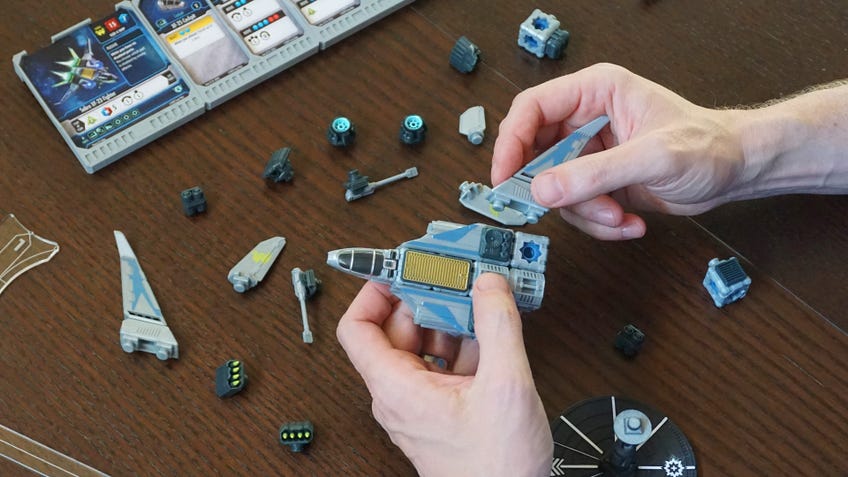 Clever customisable miniatures games Snap Ship Tactics has partnered with tabletop publisher Flat River Games to distribute a starter set for its modular, outer space dogfighting title. The box will hit retail on September 15th and contain enough ship pieces for two eager pilots.
According to ICv2, Snap Ship Tactics will enjoy a retail showing off the back of a successful Kickstarter campaign last year that managed to raise nearly $300,000. Fulfilment to backers is reportedly well underway, which makes this distribution deal with Flat River especially timely. The company is currently partnered with 17 different design studios, including the Italy-based Horrible Guild and King of Tokyo publisher Iello.
Dicebreaker first encountered Snap Ship Tactics at PAX Unplugged in 2022, and it quickly won us over with its X-Wing-meets-LEGO design. Players construct their ships from modular parts, swapping out engines, wings, weapons and more to build a fully custom loadout for the ensuing skirmish amid asteroid fields and other interstellar hazards.
Depending on the chosen parts, a ship's movement and combat capabilities can vary drastically. A lightweight fighter can easily strafe in and out of enemy range, but their firepower won't be much to write home about. Some large guns require a minimum distance, while bladed wings reward putting your ship directly into harm's path.
The parts take advantage of an interlocking system designed specifically for Snap Ship tactics, allowing hundreds of different components to swap in and out on the basic chassis for both of the main factions. The game can be played as a classic versus dogfight, cooperative strikes against enemy AI or a solo tactical experience. Enemy units use a card system to determine their strategy when there's no human in the opposing cockpit.
At $79.99 in retail, the starter box will support play for two players battling each other or paired up against an AI opponent. Skirmishes can last between half an hour up to 120 minutes, but the system of movement, positioning and managing heat across several internal systems keeps things interesting and hectic. Matt Jarvis penned his quite warm reception of Snap Ship Tactics earlier this year, so give it a read if snap-and-play sci fi miniature fights sound like your jam.
Update: The number of players and modes of play supported by the Starter Set was corrected.