Spectre & Vox is an escape room game played inside a complete 3D haunted house
From Sherlock: The Official Live Game and The Crystal Maze Live Experience creators.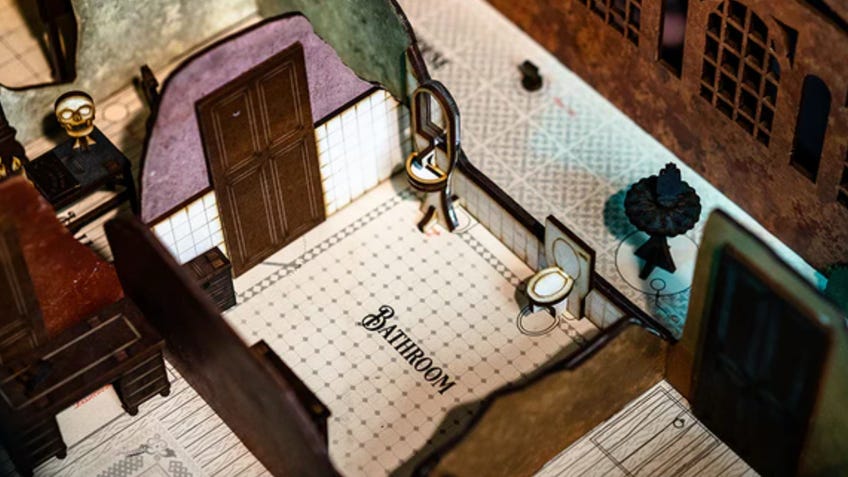 A new escape room game has hit Kickstarter, offering a series of puzzles inside a complete 3D house that sits on your tabletop.
Spectre & Vox is the first home escape room game from Nick Moran, who has previously created live escape rooms including the official live game for TV series Sherlock, and set and scenery builder Glen Hughes. They're joined by game designer Dean Rodgers, one of the founders behind the live experience reboot of cult TV series The Crystal Maze.
Set at the end of the 19th century, Spectre & Vox follows the titular paranormal investigators as they explore a seemingly haunted Georgian mansion.
The haunted house itself is a 80-by-80cm 3D model made up of nine distinct rooms and 296 wooden pieces that the players must build before starting to crack the puzzles inside.
The game comprises between three and six hours of gameplay - depending on whether backers of the Kickstarter campaign spring for the core set or the deluxe edition - split into roughly hour-long chapters. The story is said to span multiple generations within the same house.
The creators say that further puzzles will be released as downloadable content for the smartphone and Amazon Echo home speaker companion app that provides atmospheric music and voice acting from actors James Killeen and Dani Mosely during each playthrough. The DLC will be compatible with the 3D house, which can be reused after completing the story.
While the £119 core edition of Spectre & Vox includes the complete house and the first three chapters - along with support for future content - the £139 deluxe edition adds in electronic lighting to the model, which will flicker to add atmosphere and allow the game to be played in the dark.
Spectre & Vox is live on Kickstarter until November 19th. It's already quickly blown past its initial goal of £35,000, now sitting on nearly £150,000 - which will unlock metal props as a stretch goal. Confirmed to be exclusive to the crowdfunding platform, the game will arrive with backers between February and March next year.