Foil a Krabby Patty theft in SpongeBob Squarepants co-op board game Plankton Rising
Latest pop culture hit to get Rising treatment after Avengers, Harry Potter and Star Wars.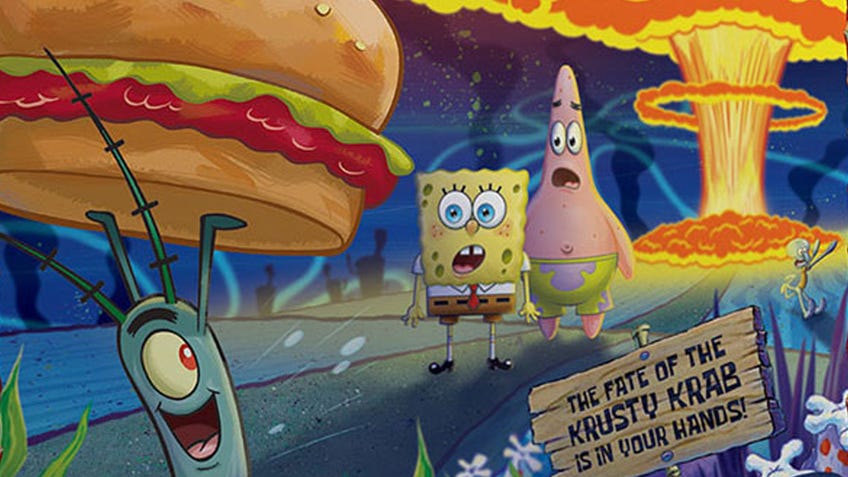 Are ya ready, kids? There's a new SpongeBob Squarepants co-op board game floating up from Bikini Bottom to the ocean surface later this year.
SpongeBob: Plankton Rising is the latest instalment in the Rising series from publisher The Op, which kicked off with the Marvel movie board game spin-off Thanos Rising: Avengers Infinity War in 2018 and has since travelled to the wizarding world of Harry Potter with Death Eaters Rising and the Star Wars galaxy far, far away with last year's Dark Side Rising.
As you've probably already guessed from the name, the upcoming board game is based on the enduring efforts of Chum Bucket proprietor Plankton to steal a Krabby Patty from the Krusty Krab in order to analyse its secret formula and steal business from rival restaurateur Mr. Krabs.
As in the other Rising games, the players will be working together to overcome Plankton, rolling dice each turn and spending them to recruit characters and overcome Plankton's various obstacles. Meanwhile, the game-controlled Plankton will attack and hinder the heroes, who lose if one of the player's teams is defeated. Players will start out controlling SpongeBob, Sandy, Patrick and Squidward.
SpongeBob: Plankton Rising will be released this summer, with only a North American release confirmed so far. The RRP will be $39.99 (£35).
Plankton Rising is actually one of two upcoming SpongeBob Squarepants board games announced by The OP in the run-up to new spin-off movie Sponge on the Run. The other is a SpongeBob version of classic family board game Trivial Pursuit, featuring questions from the entire 12-season run of the animated TV series. Trivial Pursuit: SpongeBob will be released on May 22nd and cost $20 (£17).