Fantasy miniatures game Frostgrave is getting a sci-fi spin-off, Stargrave, next spring
Cold space.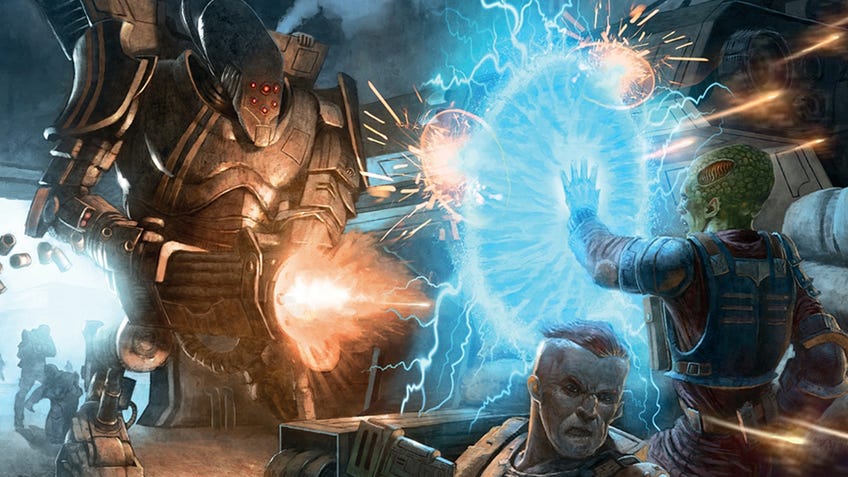 Frostgrave, the miniatures game about wizards scrapping over treasure in a frozen city, is headed to the stars next year in a new sci-fi spiritual successor, Stargrave.
Stargrave: Science Fiction Wargames in the Ravaged Galaxy has been designed by Joseph A. McCullough, the creator of the fantasy wargame and its recent second edition, released over the summer.
In place of Frostgrave's warring wizards, Stargrave sees players control a starfaring crew led by their operator. The crews can range from mercenaries and treasure hunters to smugglers and galactic freedom fighters, comprising a ragtag band of hackers, soldiers, mechanics and other specialists.
Each operator, their lieutenant and their crewmates have unique skills and abilities that will come into play as they embark on a connected campaign of missions. Objectives can vary from fighting off space pirates and freeing hostages to stealing and recovering, with each successful assignment netting the crew experience to unlock more powerful abilities and new companions. A blog post giving the first details of the game, including a reveal of the cover artwork, hints at the chance to hire alien beings with inhuman capabilities.
Stargrave will release next April from Frostgrave publisher Osprey Games, alongside a line of official Stargrave miniatures from North Star Military Figures.
A product listing on Osprey owner Bloomsbury's online store gives a release date of April 22nd 2021, with a price of £21 for a digital PDF of the rulebook. An Amazon product page gives the release date of April 29th for the physical 176-page hardback, with an RRP of £25.