Space Cadets designer's Super-Skill Pinball 4-Cade turns the arcade classic into a roll-and-write board game - exclusive preview
There has to be a twist.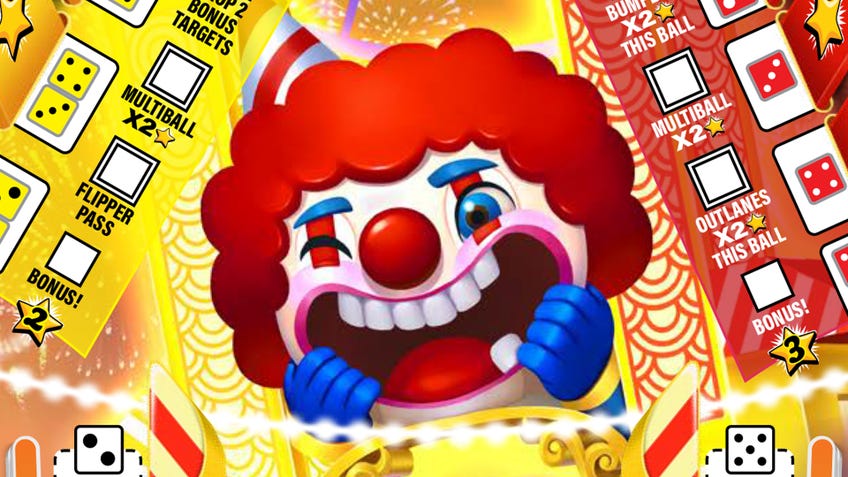 Shoot for the high score in Super-Skill Pinball 4-Cade, the new pinball roll-and-write board game from Space Cadets creator Geoff Engelstein.
The upcoming board game features four separate pinball tables designed around different themes, such as a dancefloor and fantasy land. Dicebreaker was given an exclusive look at the Carniball sheet, based on a circus-inspired pinball table, by publisher WizKids.
Able to support one to four players, Super-Skill Pinball sees players simultaneously filling in their own pinball table sheet, as each player takes turns to roll two dice and everyone picks one of the results shown.
Starting at the top, players make their way down their sheet by filling in one of each 'drop target' option, with every mark they make representing the journey of their ball. Should a player successfully complete a full set of drop targets, then they can erase the marks and gain a bonus.
Once their pinball reaches the flippers at the bottom of their sheet players must be able to fill in one of the number slots on either of the flippers. If they cannot, the ball is lost and they must erase all the spaces they've filled in with dashed lines before starting with a new ball.(Any doubled-lined spaces remain marked until the game is over.)
Players can use certain bonuses to keep their ball in play such as the flipper pass bonus, which allows players to fill in one slot on either flipper.
If a player can fill in one of the slots above a flipper then they can send their ball off to the corresponding coloured bumper section. In the case of the Carniball table, that's red or yellow.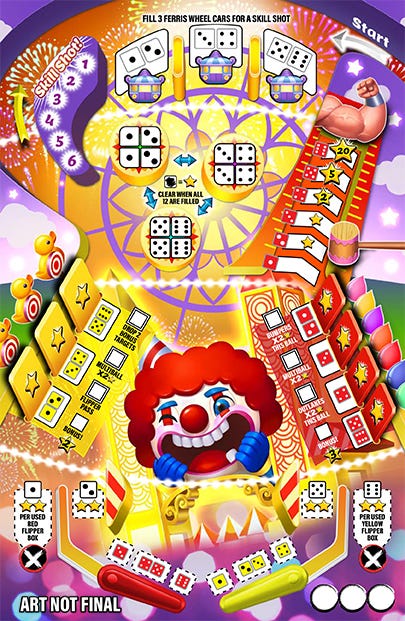 The preview of Carniball given to Dicebreaker detailed a collection of scoring sections unique to that pinball table. Each of the four tables in Super-Skill Pinball 4-Cade features its own selection of scoring objectives.
Carniball's scoring sections include a skill shot, requiring players to fill in each of the ferris wheel cars to circle a skill shot marker and use it to replace a die result of their choice; a feat of strength that sees players try to fill in marks with increasing numbers from one to 20; and a multiball section that enables players to add another ball to the table. With two balls in play, players can use both die results to fill in target drop sections.
Once every player has lost all three of their pinballs the game ends and the player with the most points is named the winner.
Super-Skill Pinball 4-Cade is designed by Geoff Engelstein, the creator behind co-op board game Space Cadets and The Expanse Board Game, which was adapted from the hit sci-fi television series. WizKids - the company responsible for releasing co-op board game Mage Knight and horror board game Fury of Dracula: Fourth Edition - is publishing the upcoming board game.
Super-Skill Pinball 4-Cade is set to release sometime in September 2020 at a retail price of $24.99 (£19).