Talisman: Star Wars takes the classic '80s adventure board game to a galaxy far, far away
I have a bad feeling about this.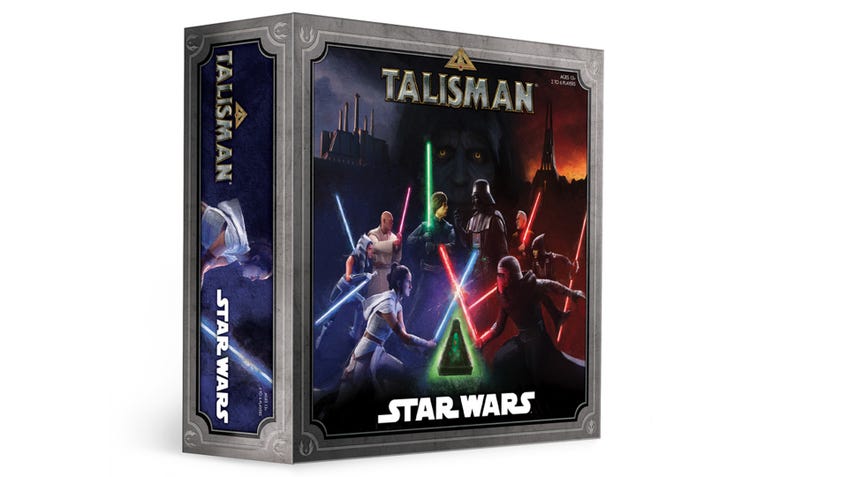 Search the galaxy for the Emperor and become one with the Force in Talisman: Star Wars, the next entry in the family board game series.
Talisman is a classic beginner board game originally released by Warhammer maker Games Workshop in 1983 and themed around a fantasy setting featuring dragons and wizards. In Talisman, players take turns to roll dice and travel across the game board, stopping on encounter spaces and overcoming any obstacles in their way. Other than classic fantasy monsters such as angry orcs and mischievous goblins, players could also find themselves facing off against each other on their quest to obtain the Crown of Command from the centre of the board.
Since its release, Talisman has inspired a number of revised editions and versions, with the latest spin on the family board game franchise taking players to a galaxy far, far away. Featuring 12 playable characters spanning both Jedi and Sith from the original Star Wars trilogy and more recent films - including Obi-Wan Kenobi, Luke Skywalker, Darth Vader and Kylo Ren - Talisman: Star Wars has players competing to travel across iconic locations in order to reach Emperor Palpatine.
Talisman: Star Wars challenges players to grow in power throughout their journey to Palpatine by collecting legendary items and improving their character abilities. Once they reach the middle, the Star Wars board game will force players to choose between defeating the Sith Lord once and for all or joining him as his evil apprentice to rule over the galaxy.
Talisman: Star Wars was announced for May the 4th - also known as Star Wars Day - by publisher The Op, which has been responsible for releasing various other movie board games, such as co-op board game Thanos Rising: Avengers Infinity War and deckbuilding board game Harry Potter: Hogwarts Battle.
Previous Star Wars board games published by The Op include Star Wars: Dark Side Rising, a co-op board game in which two to four players work together to stop Darth Vader and the Empire from finishing construction on the Death Star. By travelling the galaxy, defeating Imperial minions and recruiting Rebel allies, players can take down the Death Star before it is complete.
Talisman: Star Wars isn't the only classic board game getting a modern makeover from The Op. The studio recently announced the release of Risk: Warhammer 40,000 - a new edition of the family board game based on the popular Games Workshop sci-fi miniatures game. The upcoming board game will feature factions from the Warhammer 40,000 franchise, such as Chaos Space Marines and and Orks, in a battle for control of the planet Vigilus.
The release date for Talisman: Star Wars is set for sometime in Autumn 2020, at a retail price of $59.99 (£48).