Cozy RPG Teatime Adventures brings real tea pairings, recipes and gardening advice to D&D 5E
Written by former games and education lead for President Obama.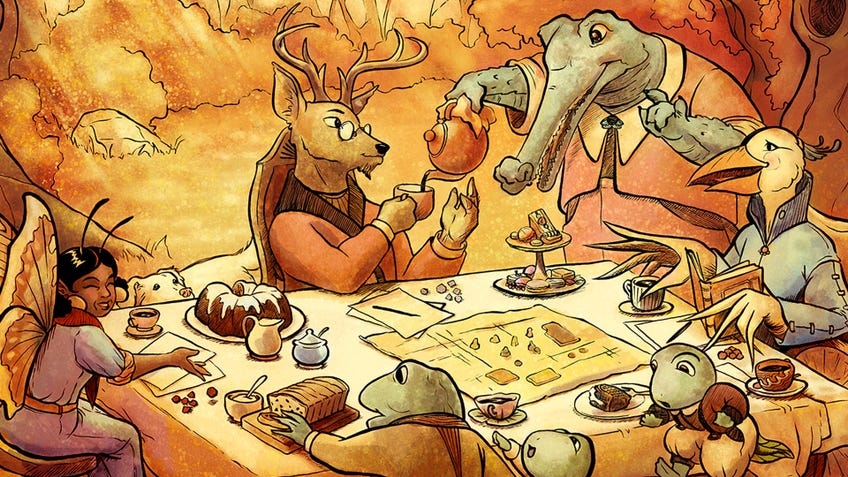 An upcoming series of adventures for Dungeons & Dragons 5E looks to swap the RPG's swords and sorcery for the cozier alternatives of baking, gardening and having a cuppa.
Teatime Adventures is the first game set in the world of the Verdant Isles, and will include three one-shot scenarios that can be played using D&D 5E. The adventures have been written by Grace Collins, who previously served as games and education lead for President Obama.
While the gameplay hews closely to D&D 5E's familiar structure, the adventures are described as explicitly moving away from Dungeons & Dragons' traditional focus on combat and 'power fantasy'.
The underlying system instead adapts the RPG's familiar traits and classes to suit an experience centred around tackling emotional challenges rather than physical confrontations. Traditional abilities such as strength, dexterity and stealth become bustle, fidget and wallflowering, while new character classes include the likes of gardener and event planner.
Players will explore the rural setting of Oakenbend, looking to solve a number of mysteries affecting the town and its inhabitants. Each scenario is said to last between two and eight hours, with the adventures suggested as peaceful breaks between regular D&D games.
The Verdant Isles setting is described as being visibly LGBTQ+ and disability-friendly, a deliberate "counterpoint to the many existing D&D products that are straight, cisgender and ableist centered", the game's creators told Dicebreaker. NPCs featured in the book include their pronouns, details about how they identify and other information, with the majority of characters LGBTQ+ and "many" neurodiverse and/or disabled.
The wholesome, inclusive feel of the Verdant Isles will be reflected outside of the fantasy setting, too. Each scenario in Teatime Adventures will include a suggested tea pairing, a vegetarian recipe and advice on caring for plants that players can use in the real world.
The real-life information will complement the themes and moments in each adventure, as players handle a tea service, identify plants or locate spices for a baker, for example. Horticulture is described as being a shared theme with other Verdant Isles projects planned.
Verdant Isles: Teatime Adventures will be published by Snowbright Studio, the game studio founded by Collins. A Kickstarter for the RPG will launch on August 3rd.