Magic: The Gathering creator's classic card game The Great Dalmuti gets a Dungeons & Dragons do-over
To celebrate its 25th anniversary.
Compete in a game of wits and luck with a fantastical twist in The Great Dalmuti: Dungeons & Dragons, a reimagining of the trick-taking card game by Magic: The Gathering designer Richard Garfield.
Inspired by the vast world of the fantasy RPG, The Great Dalmuti: Dungeons & Dragons sees players holding hands of cards containing all manner of iconic imagery. From mind flayer ministers to gnoll breeders, the D&D version of The Great Dalmuti overhauls the now 25-year-old card game with a brand new look.
The world of Dungeons & Dragons is one that's driven by power and status, particularly in cities like the infamous Waterdeep, with some individuals in greater positions of power than others. These powerful figures are represented in The Great Dalmuti: Dungeons & Dragons with higher-numbered cards, which are randomly dealt out to players each round along with lower-ranked cards.
Numbered from one to 12, cards must be played to fit the rank of the last card played to the centre of the table - this means that players must be able to lay down the same number of cards of a higher rank. For example, should someone play two 3 cards, then the next player must be able to play two or more 4 cards. Any players that cannot play cards in rank must pass their turn until they can again.
The winner of The Great Dalmuti: Dungeons & Dragons is whichever player successfully plays all the cards in their hands first.
Originally released in 1995, the original version of The Great Dalmuti had a medieval theme that included cards named after various roles people might have held during that time, such as a seamstress, mason, baroness and archbishop. The game itself was based on the medieval card game known today as President (as well as some less family-friendly names).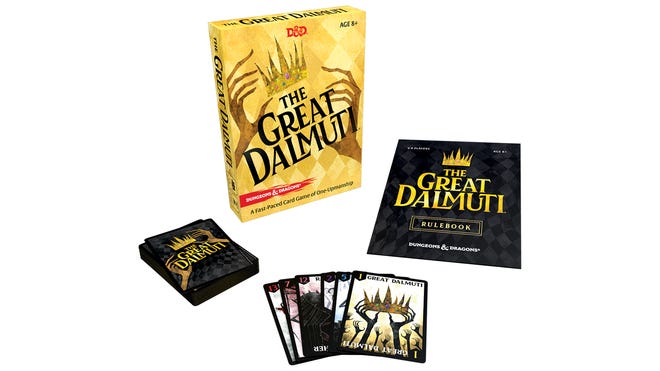 The D&D-themed edition of The Great Dalmuti contains artwork by illustrator Harry Conway, known for creating stylistic portraits and landscapes inspired by pop culture, such as video game series Dark Souls and miniatures franchise Warhammer 40,000.
The announcement of The Great Dalmuti: Dungeons & Dragons follows the reveal of the tabletop RPG's latest board game spin-off, Dungeons & Dragons: Adventure Begins. A co-op board game designed to get new players interested in D&D, Adventure Begins sees players exploring the land of Neverwinter and battling various monsters along the way.
The Great Dalmuti: Dungeons & Dragons is set to be released this November at a retail price of $15 (£11).