The Grizzled spin-off We Care sees players treating patients on the frontlines of a medical crisis
Donations made to Doctors Without Borders for every copy sold.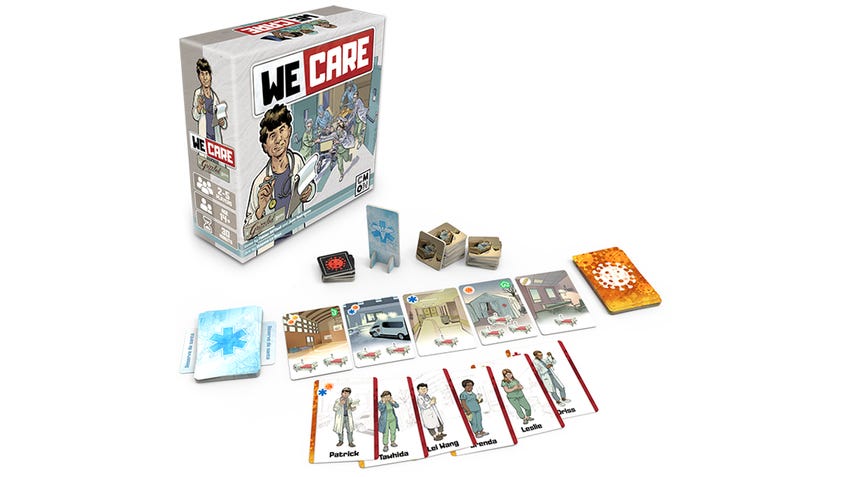 We Care, the latest entry in co-op tabletop series The Grizzled, will put players in the shoes of medical professionals working to save lives in an overburdened hospital.
According to publisher CMON, The Grizzled: We Care is "inspired by current events", with players becoming emergency medical workers struggling to manage the increasing numbers of patients who need their help. Taking place on the frontlines of a hospital that's filled with people requiring medical assistance, We Care is a co-op board game for two to five players that pushes players to "ward off dire medical threats".
Whilst players must ensure that the hospital doesn't get overwhelmed with patients, they will also need to prevent themselves from getting burnt-out from the mental and physical stress of overworking. Players will need to make sure that they're careful enough that their characters don't become victims of the epidemics they're treating as well. Should players cooperate and provide each other with the support they need, they will be able to save both the patients' lives alongside their own characters'.
The Grizzled is a co-op game originally released in 2015 that focuses on trench warfare during the First World War. During the game, players work together to survive the bleak conditions and ongoing threat of an enemy invasion by playing cards. Each card represents either a new threat players must face or a negative personality trait that one of the player characters must take on. Should the players successfully discard all the cards in the draw deck and their own hands before the time runs out - or one type of threat enters play too many times - they win the game.
The Grizzled: We Care was co-created by Fabien Riffaud and Juan Rodriguez, the two designers behind the original title in the series and At Your Orders!, an expansion for The Grizzled that added a solo game mode and two-player variant, as well as new difficulty levels for advanced players.
CMON will be publishing the upcoming board game, after releasing the first entry in The Grizzled series and several other titles including horror board game Zombicide and Eric Lang's 'Mythic Trilogy' of Blood Rage, Rising Sun and Ankh: Gods of Egypt.
In its announcement of The Grizzled: We Care, CMON confirmed that it would be making a donation to Doctors Without Borders/Médecins Sans Frontières - an international medical charity dedicated to providing healthcare during a crisis that's currently working out in Hong Kong - for every copy of the game sold. We Care is set to be released sometime in Q2 of this year.