The Hobbit board game on the way from Lord of the Rings movie effects studio
Films' senior artist and Endeavor co-designer throw An Unexpected Party.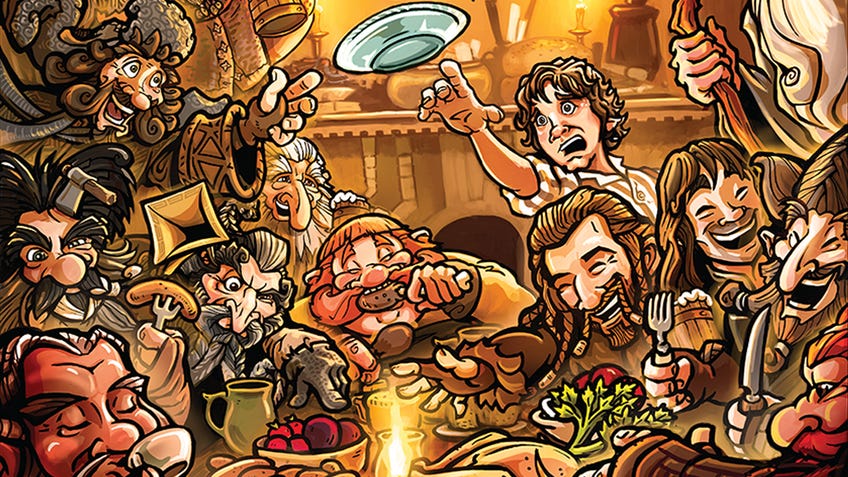 JRR Tolkien's The Hobbit is being adapted into an upcoming board game by the effects studio behind the Lord of the Rings movie trilogy, Weta Workshop.
The Hobbit: An Unexpected Party is based on the opening of Tolkien's novel and the film it inspired, An Unexpected Journey. Weta worked on props and effects for all three Lord of the Rings films and the entire Hobbit trilogy alongside director Peter Jackson.
The concept is a fun one, with two to four players controlling members of the dwarves who turn up at Bilbo Baggins' house and proceed to wreak havoc. The 13 dwarves move around Bilbo's hobbit hole of Bag End, aiming to sing all 15 lines of a drinking song by collecting cards with lyrics to 'The Things Bilbo Hates'.
As they move around the board representing Bilbo's home, the dwarves will cause chaos, collect items and increase the hobbit's anger. Making Bilbo 'furious' instead of 'curious' will have potential repercussions, even resulting in dwarves being ejected from the game.
Each of the 13 dwarves has unique abilities, making the board game an asymmetrical experience. An Unexpected Party is described by Weta as being a family board game that plays in 40 to 60 minutes.
The gameplay has been co-designed by Ian Luxmoore and Jarratt Gray, the co-creator of board game Endeavor: Age of Sail, while Weta senior concept artist Daniel Falconer - who worked on the Lord of the Rings and Hobbit trilogies - handled illustration.
Weta previously branched into board games with its tabletop debut, mech-fighting board game GKR: Heavy hitters, and a movie board game based on sci-fi flick District 9.
The Hobbit: An Unexpected Party will be released this September, priced at £32/$40.