A new board game from Star Wars: Rebellion designer melds comics, codebreaking and '90s teens
More than pulp fiction.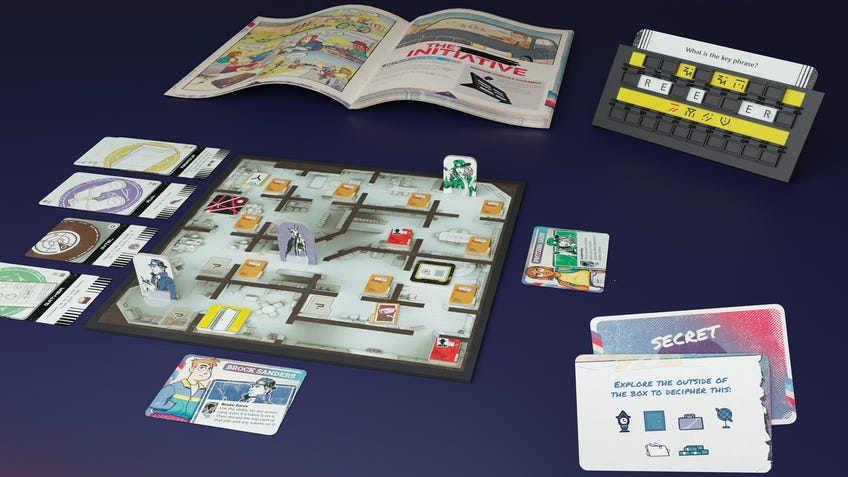 The Initiative is the debut game from new studio Unexpected Games, headed by designer Corey Konieczka of Mansions of Madness, Battlestar Galactica: The Board Game and Star Wars: Rebellion fame. The episodic espionage experience will be available at retail in spring 2021.
Dicebreaker reported last week on the mysterious teaser Unexpected Games dropped on YouTube, revealing the name and not much more. The Initiative has been in development for a while, having been delayed last year due to COVID-19; Konieczka said at the time the studio's work on its first title was "pretty much done".
The latest announcement revealed that players will fill the chunky, velcro, possibly light-up shoes of teens in 1994 who have procured a board game called The Key. Sessions will cover both the real life of each character and their time spent exploring the mysterious find in a format akin to popular legacy board games.
The missions - running between 30 minutes and an hour - are linked together by a comic book included in the box. Playthroughs begin by reading a page in the comic that will set up the emotional states and gradually advance the plot. Their story will continue regardless of each game's outcome, but winning confers special advantages and other boons worth fighting for, according to a press release from publisher Asmodee Games.
While the press release didn't reveal much about how the game plays turn to turn, expect a fair bit of puzzle-solving, code-cracking and what looks like skulking through corporate or government environs. Some mysteries might even involve searching the art on the outside of the box for clues.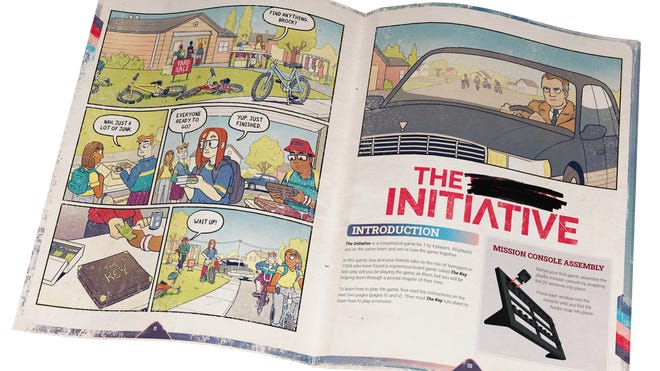 Unexpected Games was founded by Konieczka in 2019 after he departed his role as Fantasy Flight's VP of research and design. The studio describes itself as creating "games that are novel, fun and accessible - surprising people with experiences they've never had before".
Konieczka added The Initiative is a passion project; "I've been crafting this idea for years, and I can't wait for people to experience it for themselves," he said in the release. Unexpected Games claims it wants to remain small and independent to afford the studio the ability to explore interesting ideas with a more personal touch.