10 best legacy board games that aren't Pandemic Legacy
Play for keeps in these top legacy board games.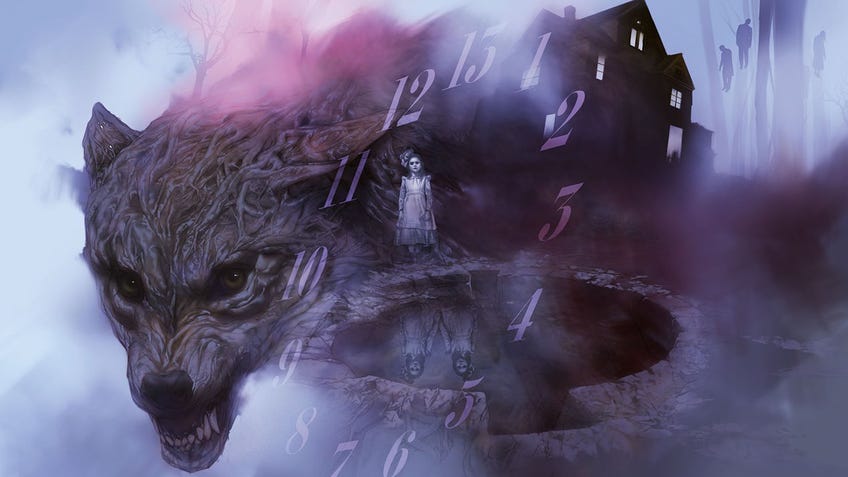 As you'll know if you've ever played the brilliant Pandemic Legacy, legacy board games feel a bit like an RPG-in-a-box. And like any good adventure, the players group up every time to explore the world that they're building. However, unlike your standard RPG, in a legacy title everything is permanent - and there's no going back.
Irreversible changes are often made to a legacy board game while playing: whether that's opening sealed boxes, marking each card or opening up mysterious packages. In addition, there are often customisation options that let you mark out your bits. In other words, they're full of surprises.
Most legacy board games can only be played through once, and each playthrough is completely unique, as it's determined by its players.
Best legacy board games
Given that these days fighting disease in Pandemic Legacy is only one of various things you can do, we've collected together the best legacy games for you to play. So if you'd like to explore a haunted house, rule a kingdom or delve into the secrets behind the Forever King, here are the best legacy games out there right now.
1. Gloomhaven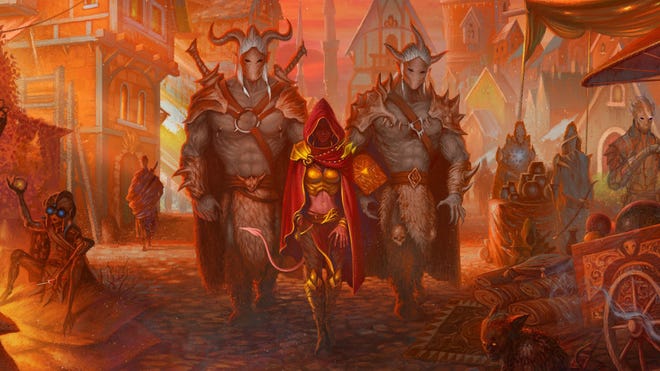 A dark fantasy dungeon-crawler RPG packed to the brim with hack 'n slash goodness, Gloomhaven is one of the better known legacy titles out there. Not least because it weighs 20 pounds, roughly the same weight as a pug.
In terms of legacy mechanics, you can choose to tear up cards, write in the books, place stickers on the map and open up mysterious sealed envelopes when certain criteria have been met.
It's ultimately down to you, as there is an app or sticker system that means you don't have to destroy your somewhat pricey components. That said, plenty of players find the irreversible aspect of play a major contribution to the fun.
Gloomhaven is perfect for fantasy and RPG buffs who want a long-form adventure to other worlds.
Buy Gloomhaven on Amazon UK/Amazon US.
2. Betrayal Legacy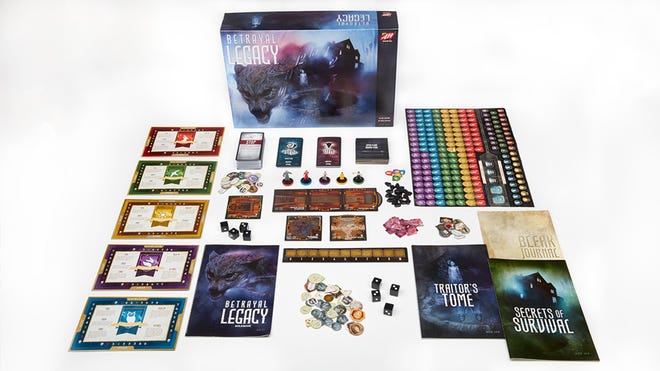 Based on Betrayal at House on the Hill, the DIY haunted house builder where you also get to murder your mates, the game's legacy adaption adds an ongoing story to proceedings.
In this, you go back right to the beginning of the house's cursed history, following the horror from generation to generation. There are 14 chapters and individual games in total, spanning from 1666 to 2004. You'll create a unique history of the house, while each playthrough adds a new bloody chapter determined by player actions. Not to mention, plentiful terrible secrets.
Ultimately, your decisions will shape the house – which, unlike some 'one and done' legacy games, can be replayed endlessly as your own personalised version of Betrayal at House on the Hill once the campaign's complete.
Cards will get torn, the board well get duly scrawled upon and you'll mark out crossbows and buckets alike with your unique family crest.
Also differing from the original, this iteration includes a legacy deck, which acts like a stripped back evil AI. It directs the course of the game, and adds plenty of extra horribleness to boot, effectively making the house itself a character.
And just like the original, traitor mechanics and cursed dice reign supreme. Ideal for fans of horror looking for an ongoing campaign.
Buy Betrayal Legacy at Amazon UK/Amazon US.
3. SeaFall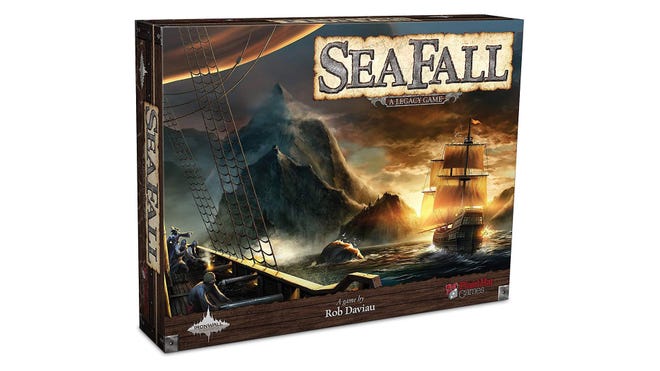 The first legacy title created as such from the ground up, SeaFall is set in a world that is only just beginning to grasp the intricacies of ocean exploration.
You'll each play a mainland empire tasked with discovering, defending and developing new islands. For the most part, dice rolls and ship placement will determine what happens each round.
However, from a storytelling perspective: you'll get to pick your province, a unique persona (such as The Brute and the Madman) and name your ships and islands.
Adding to this, you'll often be reading from the Captain's Booke, which contains details of literally hundreds of one-time events. It also include locked 'chests' to open up, revealing new twists.
From a legacy perspective, your decisions can bring you untold boons, or doom you all to not so glorious deaths at the hands of your enemies.
Perfect for fans of the sea, glory and more intensive game mechanics, this is definitely one for those who like to get immersive.
Buy SeaFall on Amazon UK/Amazon US.
4. First Martians: Adventures on the Red Planet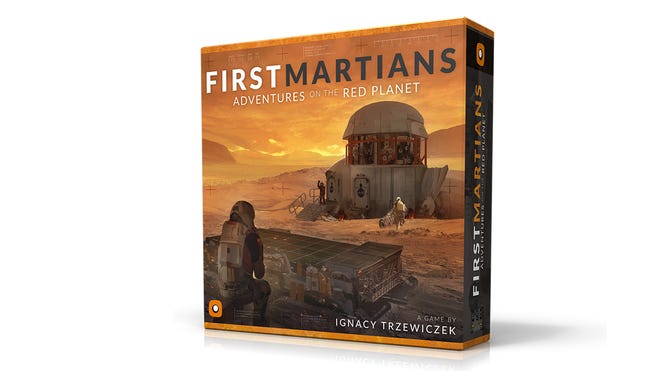 Built from the constituent parts of Robinsoe Crusoe: Adventures on the Cursed Island, this brutal Martian adventure includes a legacy mode along with a standard campaign and a few one-off adventures.
Set on the scorched surface of the Red Planet, each of you plays a human colonist setting Mars up for future generations. You'll need to work cooperatively with your fellow astronauts to survive.
Malfunctions happen every turn, resources are very limited, and the surface of Mars holds many an unexpected surprise. With extensive story and events, it really aims to simulate the horrors of surviving against terrible odds. You'll have to make some really tough decisions to make.
To help things run along extra-smoothly, First Martians has a companion app that guides you through the game. It even lets you set a difficulty level. If you love brutality, space colonisation and getting together to solve horrible problems, this is the game for you.
Buy First Martians: Adventures on the Red Planet on Amazon UK/Amazon US.
5. The King's Dilemma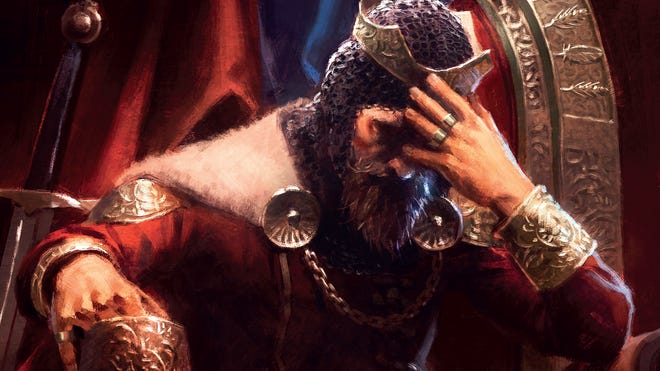 In King's Dilemma, each player takes on the role of various houses running the government within the Kingdom of Ankist. Not unlike little known indie TV drama Game of Thrones.
Several branching storylines promise many,many potential finales, as each choice you make will affect your house (represented with beautiful screens) and the ever-changing kingdom around you.
Drawing from the dilemma deck, you'll discuss and bargain (or perhaps bribe) with other players whether to 'aye' or 'nay' connundrums as increasingly difficult situations arise. These can range from "free the slaves" to "arrest the cannibals" all the way to "search for forbidden treassure".
In the long-term, your decisions might breed war, riots, famine or worse. The deck evolves as you go, branching out in a story web which is revealed through loads of tiny sealed envelopes.
Dark and full of grit, this is perfect for those looking for an ongoing story they can truly shape. It also features a host of bludding mechanics, meaning you can (miuch like Game of Thrones) bribe and lie your way to the top if you choose. Not for the faint of heart.
Buy The King's Dilemma on Amazon UK/Amazon US.
6. Aeon's End: Legacy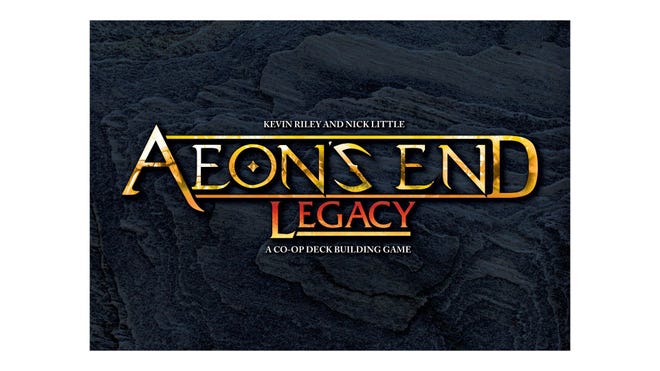 A post-apocalyptic deckbuilding fantasy, you all play mages training up to protect the last stronghold of humanity - who are fending off horrible horde of monsters The Nameless. It's all based on popular co-op game Aeon's End, and is set in the same world - just adding some nifty Legacy bits.
You'll start out as a weak mage. As you'd expect, there are tons of spells and abilities to learn on your journey to destroy evil. Meanwhile, the foes get smarter and stronger too - keeping things challenging.
Although this legacy game won't command the destruction of components, your choices will determine the challenges you'll face, and your character will also get beefier as time goes on, not that dismiliar to levelling up in an RPG.
There are also a raft of stickers, card banishments and narrative cards packed full of story flavour to keep you occupied. A super fun option for fans of fantasy and card-based hack 'n slash.
Buy Aeon's End: Legacy on Amazon UK/Amazon US.
7. Shadowrun: Crossfire Deckbuilding Game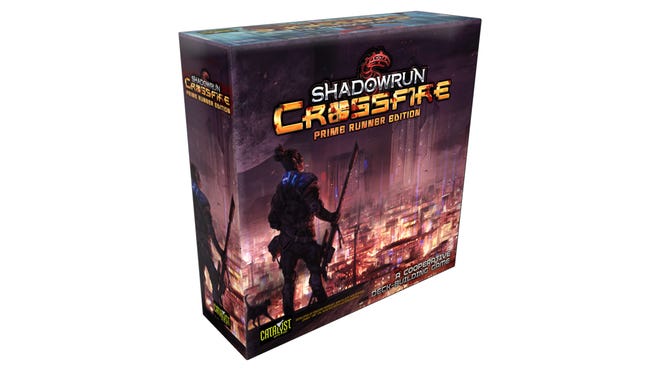 This cooperative deck-builder is based on the dark, gritty Shadowrun tabletop RPG. Its fantasy/cyberpunk setting Sixth World is packed full of flesh-eating ghouls, spirits formed of toxic waste, corporate raiders and er, dragons.
First you'll pick a character (street samurai troll anyone?) and a race.
Then you'll you'll team up to complete 'gray ops' missions (and deal with the inevitable fallout) as the titular Shadow Runners for your friendly local mega-corporation.
You'll also keep improving your deck, while the karma mechanic (effectively levelling-up experience) imparts cyber upgrades, augmentations and magic. You'll mark your karma using permanent stickers on your player card, meaning that character is forever hench.
Shadowrun: Crossfire is ideal for anyone who enjoys brutal co-operative experiences, as staying alive in the mean streets of Sixth World is quite the challenge. Particularly fun if cyberpunk meets fantasy meets grim dystopia is your bag.
Buy Shadowrun Crossfire on Amazon UK/Amazon US.
8. Centauri Saga: Abandoned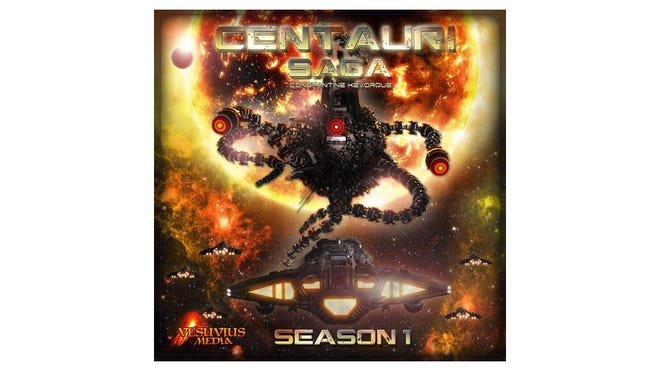 A legacy expansion to 4X sci-fi game Centauri Saga, Abandoned adds a new, permanent campaign to the space-faring armada simulator.
In the base game (which you'll need to play), the infinite black is full of both hexagonal tiles and horrible aliens. Luckily, you're packing a fleet full of Star Destroyers and accompanying rail guns.
However, the setup of the Abandoned legacy expansion is rather different.
In this, you're a ragtag bunch of survivors escaping a tyrannical government via space fleet. On the run you discover an old human civilisation concealing a dark secret that might well end the world.
You'll build, fight, explore and manage resources in order to survive long enough to warn Earth of the horrors to come.
It's also worth mentioning that any changes made to the expansion, will still leave the base game intact. Additionally, once completed, the legacy campaign actually adds new things to the core game - such as scenarios. Ideal for those who love space fleets, aliens and the horrors of surviving in space.
Buy Centauri Saga: Abandoned on Chaos Cards.
9. Machi Koro Legacy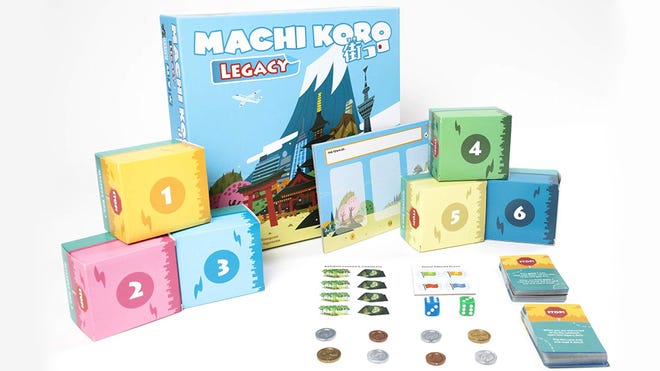 Japanese inspired city-building dice game Machi Koro has also received the legacy treatment. A standalone adaptation brimming with the mystical whimsy of the original, it comprises ten different games based in a narrative-driven campaign moulded by its players.
As things progress, you'll learn the weird secrets hidden beneath the land you're building on.
And unlike most other legacy games, Machi Koro is actually replayable - although each playthrough is unique.
In addition, Its simple dice rolling and card collecting makes it hugely accessible, and the charming artwork (and resulting game tableau) is just gorgeous.
Mechanically speaking, the inclusion of in-game choices, also adds a little excitement to proceedings.
This is also one of the few titles on here not so steeped in blood and spooks that you can actually play it with the family.
Buy Machi Koro Legacy on Amazon UK/Amazon US.
10. Charterstone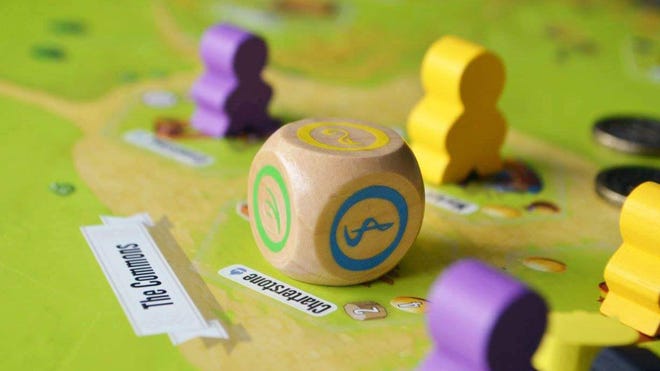 Curiously, this city building title comes from the designer of intense strategy Eurogame Scythe, Jamey Stegmaier.
In it, each player adopts a plot of land, then uses a mix of worker placement and other mechanics to build up their own lot.
Over the course of 12 games, you'll vie to be the town's most influential citizens.
And beneath the worker-placement gameplay and cutesy bright graphics, is a surprisingly dark tale surrounding the Forever King - the mysterious monarch who sent you out into the wilds to begin with.
We'll avoid spoiling it for you but… there's strange things afoot in Charterstone, and odd choices to make. Ideal if you're looking for a gentle Eurogame with some wild story elements and adorable illustrations.
It's also extremely replayable, as cards are stashed as opposed to torn.
Buy Charterstone on Amazon UK/Amazon US.