The Mirroring of Mary King is a two-player game about a Scottish ghost legend from Cosmic Frog creator
Spiritual struggle.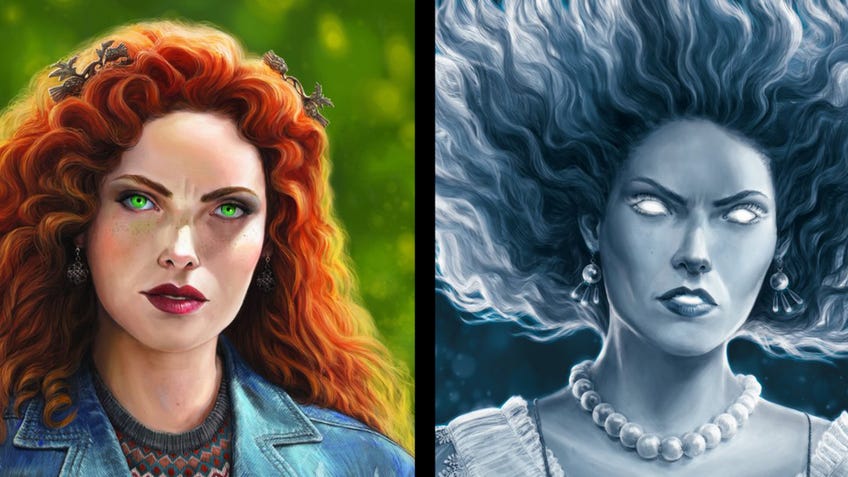 Protect a mortal against a ghostly invasion or attempt to overthrow her will in The Mirroring of Mary King, an upcoming board game from the creator of Cosmic Frog, Jim Felli.
Based on the tale of Mary King's Close, a real place in Edinburgh that has been the location of multiple reported ghost sightings and hauntings since the 17th century, The Mirroring of Mary King is a two-player board game about the mental battle between a spirit and a mortal woman. Players can choose to take the role of the living Mary King or the apparition of the late Mary King, as she attempts to possess the body of her descendent.
Regardless of which role players decide to take, they'll both have access to an identical deck of cards and will compete against one another to gain control of Mary through three different methods. The horror game is made up of a collection of tiles that display a different image on either side and, when placed together, show either the mortal Mary or the ghostly Mary. On their turn, players will select one of their available control cards to flip over the indicated tiles, with the option to use multiple cards depending on the current round. Should one player successfully flip all the tiles to their character's side, they automatically win the game.
Players can also play action cards to use various unique abilities against their opponent, such as forcing them to flip a tile or locking certain tiles from being flipped. Players can choose to buy cards from a shared pool stacked next to each side of the board, spending a card from their deck in order to buy a card that they can use instantly or save in their hand for another turn.
At the end of their turn, players check to see how many tiles they have flipped to their character's side in a connected area - meaning that the sides touch - and force their opponent to discard a certain number of cards from their deck. If a player ever runs out of cards in their deck, then they immediately lose the game. Otherwise, players continue until the game's five rounds - representing days - are over, at which point they count how many cards they have left, plus how many tiles they have successfully flipped to their character's side, and tally the points, with the winner being whoever has the most points.
Besides The Mirroring of Mary King and Cosmic Frog, Felli is known for designing co-op board game Shadows of Malice - in which players work together to prevent a demon from enacting its evil plans - and Bemused, a card game about becoming a muse to a human genius.
The Mirroring of Mary King will be published by Devious Weasel Games, the studio responsible for releasing several of Felli's previous titles including Cosmic Frog, Shadows of Malice and Bemused.
The release date and retail price for The Mirroring of Mary King are yet to be confirmed.