Jiangshi designers' next roleplaying game is like a horror version of Russian Doll
RPGs! What a novel concept!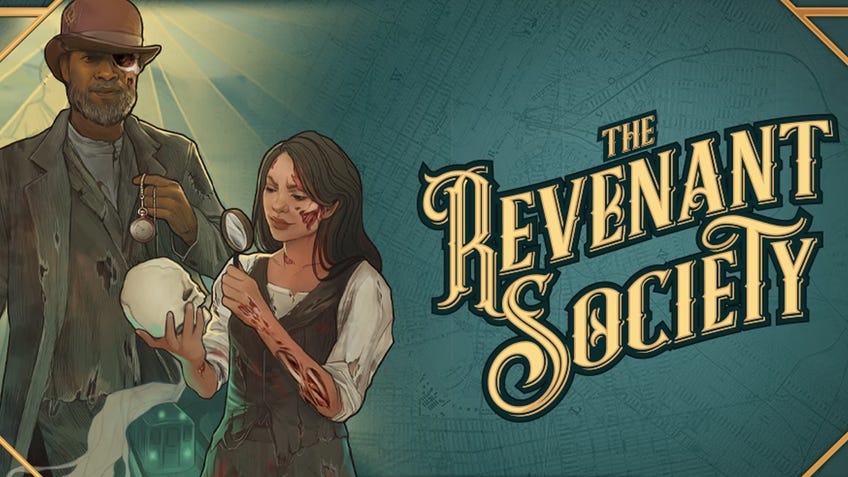 The next tabletop roleplaying game from the designers of Jiangshi: Blood in the Banquet Hall is like a horror version of Russian Doll.
The Revenant Society is an upcoming tabletop RPG co-designed by Sen-Foong Lim and Banana Chan. Revealed by Sen-Foong Lim via his Twitter, The Revenant Society is an RPG focused around the concept of purgatory and the ultimate goal of passing on to an afterlife.
Similar to the first season of Russian Doll, a 2019 Netflix series starring Natasha Lyonne as a 36-year-old woman who remains stuck in a time loop of her own death until she solves a mystery, The Revenant Society will have players trying to break out of their own time loops. As ghosts trapped in the space between life and death, the players will be investigating their own demises for the answers they need to escape into the beyond. As players hunt for clues, they'll be forced to continuously experience their own undoing: for better or worse.
What's next for me and @bananachangames?https://t.co/sG2Epxu22r

The Revenant Society casts players in the roles of restless souls who will remain trapped in a loop of endless undeath unless they can solve the mystery of the their own undoing. Coming Feb 28 from @VanRyderGames!

— Sen-Foong Lim (@SenFoongLim) January 5, 2023
Besides co-creating Jiangshi: Blood in the Banquet Hall and The Revenant Society, Sen-Foong Lim is best known for co-designing dexterity board game Junk Art and the party game Dungeons & Dragons: Rock Paper Wizard – both with Jay Cormier – whilst Banana Chan, who received the 2022 Tabletop Award for Best Designer, has co-designed other tabletop roleplaying games such as Suburban Consumption of the Monstrous and Deimos Academy.
The Revenant Society is set to be published by Van Ryder Games, the publisher responsible for solo board game Final Girl – in which players take control of a protagonist trying to survive a scenario inspired by classic horror cinema – and Detective: City of Angels, a deduction board game set in 1940s LA wherein players are hardboiled detectives.
Dicebreaker plays Jiangshi with co-designers Banana Chan and Sen-Foong Lim.
Jiangshi: Blood in the Banquet Hall is a horror tabletop roleplaying game that takes place in a 1920s Chinatown in the US, with the players becoming a Chinese American family attempting to run their own restaurant. Alongside the many stresses on managing a catering business and dealing with the racial prejudices of the locals, the players will need to survive the visitations of Jiangshi – or Chinese vampires – draining their life-force and putting a strain on their family bonds.
The Kickstarter campaign for The Revenant Society is set to launch on February 28th, with pledge amounts and estimated delivery dates yet to be confirmed.