Lost Cities creator and Everdell artist team up for co-op deckbuilding game
Siege the day!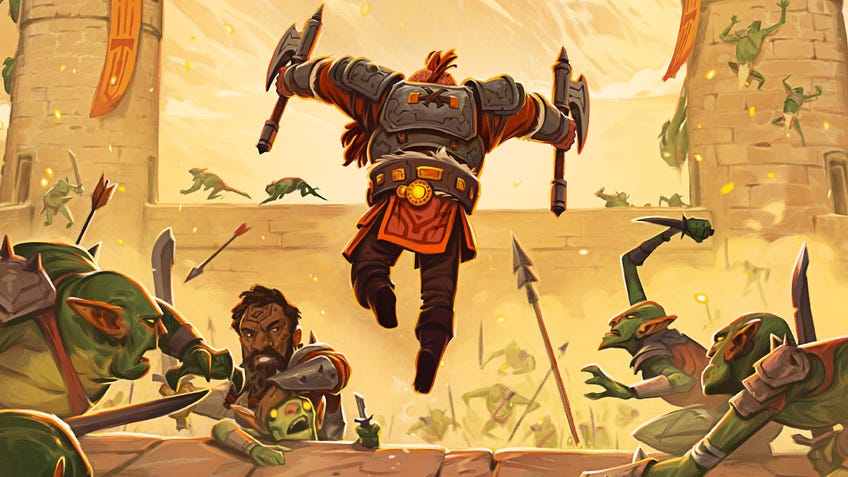 Defend a fortress against invading forces in The Siege of Runedar, an upcoming game created by Lost Cities designer, Reiner Knizia, with illustrations from the artist for Everdell - Andrew Bosley.
The Siege of Runedar is a co-op board game for one to four players set in an ancient castle marking the entrance to a series of mines rich in gold. (Thanks BoardGameGeek.) For many centuries, the local dwarf population ventured into the mines of Runedar to extract the precious metals within, until it was believed to have been exhausted. However, a recent expedition has seen the discovery of a new vein of gold, which the adventuring group was able to acquire some of before returning to the surface - only to find that they have been intercepted by an entire army.
In the deckbuilding game, players must work together to defend the fortress against the forces of orcs, goblins and trolls long enough to dig a tunnel to safety. The attacking warriors seek to obtain the newly acquired gold from the players' party, storming the walls in waves that the they must stave off from afar - using their ranged weapons - and up close with melee attacks. Should the players successfully keep the attackers at bay long enough to tunnel their way out of Runedar, then they win the game.
Besides The Siege of Runedar and Lost Cities, Reiner Knizia is also known for creating the classic civilisation board game Tigris & Euphrates - as well as its follow-up, Yellow & Yangtze - The Lord of the Rings tabletop game and auction titles such as Modern Art and High Society.
Andrew Bosley, apart from working on The Siege of Runedar and Everdell, has created artwork for titles such as Tapestry - a civilisation game released in 2018 - Citadels and Mission: Red Planet - Second Edition. Ludonova will be acting as publisher for The Siege of Runedar.
Last week, it was announced that Lost Cities would be getting a roll-and-write spin-off game this spring. The dice rolling title will see players attempting to fill in as many of the steps on their expedition sheet as possible, with the aim of getting the largest amount of points. Lost Cities: Roll & Write is set to be released in North America in May.
The Siege of Runedar will be released in October 2021, with a retail price yet to be announced.