Comic book turned Netflix series The Umbrella Academy is now a card game
Headed to Kickstarter next week.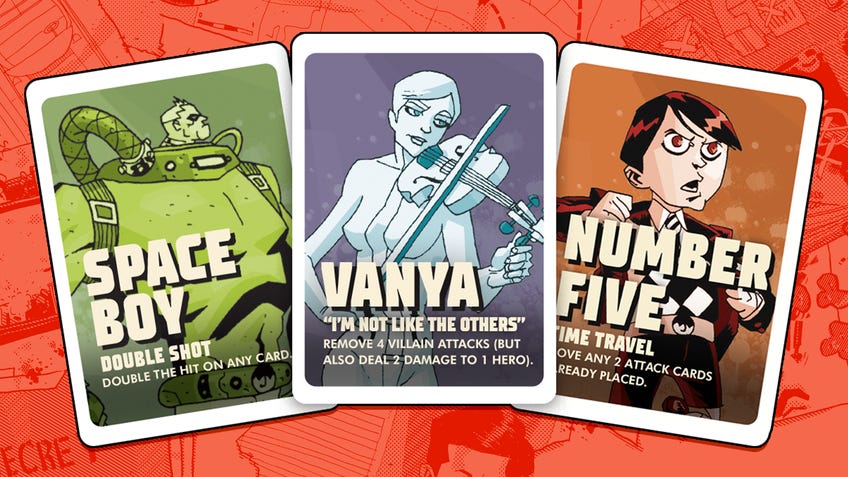 Face legions of villains as a family of unlikely superheroes in The Umbrella Academy, an upcoming board game adaptation of the original comic book series.
Written by Gerard Way, the lead vocalist in My Chemical Romance, and illustrated by Gabriel Bá, The Umbrella Academy is a comic book series originally published in 2007 by Dark Horse Comics.
The series was recently adapted into a Netflix show, which first aired in early 2019 and stars Tom Hopper, Ellen Page and David Castañeda, amongst others, with Way serving as executive producer. A second season of the show was confirmed earlier this year, and debuts on July 31st.
The Umbrella Academy is set following an event during the mid-20th century that results in 43 babies being inexplicably born to women who've otherwise shown no signs of pregnancy. Seven of these infants are adopted by a famous entrepreneur - and secret extraterrestrial - called The Monocle and grow up to have unique superpowers. Raised in the Umbrella Academy, this dysfunctional family of superheroes must save the world from a series of unknown threats.
The Umbrella Academy is a co-op board game that sees players assuming the roles of each of the seven siblings in the Hargreeves family as they attempt to defeat a cabal of villains. Featuring Five, Séance, Space Boy, The Rumor, The Horror, The Kraken and Vanya, the Umbrella Academy board game has players comparing their attack cards with those of the various villains in play - whichever character has the highest point value wins the bout.
Throughout the game players will be able to use their character's special abilities depending on how much energy they have. Each round, players will also have to cope with a dysfunctional family card that affects the current battle and presents new challenges for players to overcome.
The Umbrella Academy card game is being made and published by Studio 71 Games, the company responsible for releasing video game board game The Binding of Isaac: Four Souls and party game Tapeworm - both designed by Edmund McMillen, creator of Super Meat Boy and The Binding of Isaac - as well as trivia game Half Truth, co-designed by Magic: The Gathering creator Richard Garfield and Jeopardy champion Ken Jennings.
The Kickstarter campaign for The Umbrella Academy board game is set to be launched next week on July 28th. A full release date is yet to be announced.