The Witcher is getting a new board game set before Geralt's adventures
Rivia-ting stuff.
Create a monster slayer and bring glory to one of the five schools in The Witcher: Old World, an upcoming board game based on the popular video game franchise.
An adventure board game for two to five players, The Witcher: Old World takes place several years before the legendary Geralt of Rivia took up the job of monster hunting. Based on the trilogy of video games from developer and publisher CD Projekt Red - the studio that recently put out a video game adaptation of tabletop RPG series Cyberpunk - Old World sees players creating their own witcher whose goal is to bring honour to their chosen school of combat.
At the beginning of the video game board game, players can choose between five available witcher schools - the Wolf, the Griffin, the Cat, the Bear or the Viper - which each have their own unique advantages. While witchers of the Wolf are accomplished in sword combat, Griffin witchers have an affinity with magic, Cat witchers specialise in speed, Bear witchers have dense defensive armour and Viper witchers can poison foes with their venomous steel ability.
Depending on which school players choose, they'll start the game with a deck of ten cards that represent the different attacks, blocks, dodges and magical abilities - known as Signs - they can use. As they progress through the game, players can add to their deck in order to create powerful combos that will enable them to defeat the various monsters they'll face. Vanquishing monsters allows players to train their witchers in new skills and acquire new items and equipment.
Players won't just be facing monsters during their time with Old World, as they'll also have to embark on a variety of quests to gain renown and coin, as well as square off against rival witchers looking to gain the upper hand in the contest. Player characters may have to make narrative decisions that could test their morality, one way or another. Whichever player acquires the required amount of trophies - between four and six - first is the winner of the game.
The Witcher: Old World was created by Łukasz Woźniak, a co-founder of Go On Board - the publisher responsible for the upcoming game - who has previously designed tabletop titles such as the Viking-themed Valhalla, asymmetric two-player game King and Assassins, and historical board game 7 Days of Westerplatte.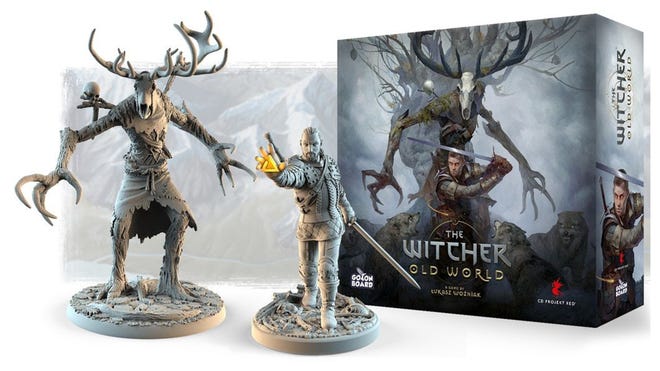 Besides co-publishing The Witcher: Old World with CD Projekt Red, Go On Board is known for releasing the aforementioned Valhalla, alongside the recently launched miniatures board game Titan, which sees players competing against one another in a fantasy version of 17th-century Europe.
The Witcher video games are based on a series of novels by Polish fantasy writer Andrzej Sapkowski, which follow the adventures of the accomplished monster-slayer Geralt of Rivia. In the world of The Witcher, witchers are supernatural monster hunters who have undergone a series of medical experiments in order to enhance their pre-existing powers, before being ordained into one of the five witcher schools.
The Witcher books have also been adapted into a Netflix television series starring Henry Cavill and Anya Chalotra, with a first season broadcast in 2019. A second season has been confirmed for release sometime this year.
According to BoardGameGeek, a Kickstarter campaign for The Witcher: Old World is set to be launched in May, with a full release scheduled for April 2022.