Play mystery board game TIME Stories Revolution at home with free demo scenario Damien
Against the clock.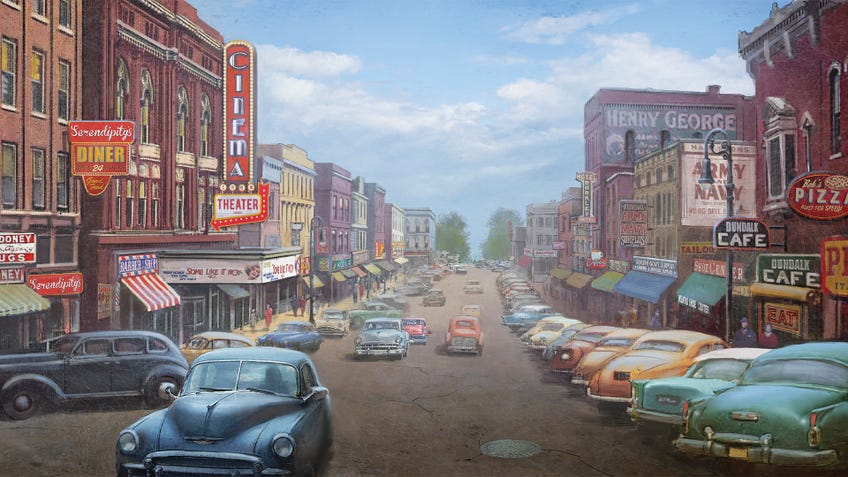 Get lost in the world of adventure board game series TIME Stories Revolution with Damien, an introductory episode set in 1958 that's currently free to download and play at home.
TIME Stories Revolution is a co-op board game that casts players as time travellers working for an agency devoted to preventing potentially destructive time paradoxes. Spanning a series of scenarios based everywhere and everywhen from the frozen Antarctic to the kingdom of a Syaan king, TIME Stories provides players with a narrative-driven experience in which every action and movement costs valuable time as they attempt to solve a mystery.
Since the original TIME Stories was released in 2015, there have been a number of expansions for the board game - including A Prophecy of Dragons and Brotherhood of the Coast - that have subsequently been collected into the 'White Cycle' of scenarios. Last year saw the release of a new edition of the board game called TIME Stories Revolution, initially comprising a series of standalone scenarios known as The Blue Cycle.
TIME Stories Revolution: Damien is one of the scenarios included within this new cycle and is designed to introduce players into the world of the TIME Agency. Designed as a demo for the series that serves as a prequel to upcoming board game TIME Stories Revolution: The Cavendish Manor, Damien is a standalone co-op board game that sees players searching for a missing child in the town of Dundalk in 1950s America. As TIME agents, the players are able to inhabit the bodies of people during the time period they're visiting - in this case, a group of schoolchildren - and must ensure that they do not disturb the flow of time.
In Damien, players must choose a TIME captain from one their party, whose role is to select which location the group is heading to each round and read out the attached story cards. Each location will enable players to perform certain actions - such as speaking to bystanders or searching for clues - until they decide to leave for a new one. A new round begins every time players visit another location, with the group needing to complete the mission in a certain number of rounds to avoid losing the game.
Damien was designed by Manuel Rozoy, co-creator of the co-op board game and several of the game's expansions, and written by Vincent Goyat, who also penned The Cavendish Manor.
The studio behind TIME Stories and its additional scenarios is Space Cowboys, which is also known for publishing beginner board game Splendor and co-op board game Sherlock Holmes Consulting Detective: The Thames Murders & Other Cases.
Players can download the TIME Stories Revolution: Damien scenario as a print-and-play board game from the Space Cowboys website.