Design golf courses then challenge your friends to beat them in roll-and-write gem Tiny Mini Golf
Bunker down.
An upcoming roll-and-write game will put both your design and golfing skills to the test in a delightful-looking game about mini golf.
Tiny Mini Golf challenges players to sink their ball into the hole in as few shots as possible - so far, so golf. The twist is that all of the courses they play will also be designed by their rival players.
The game is divided into two phases. Players first create a custom course on their gridded sheet, rolling dice to determine the various terrain types they must include between the starting tee and final hole - bunkers, water and so on.
Once the players' courses are finished, they swap sheets to take on their opponents' courses, rolling more dice to judge the accuracy and power of their swings. The aim, of course, is to overcome your rival's course using as few shots as possible. Both designing your course and playing your opponent's should take between 20 and 40 minutes tops.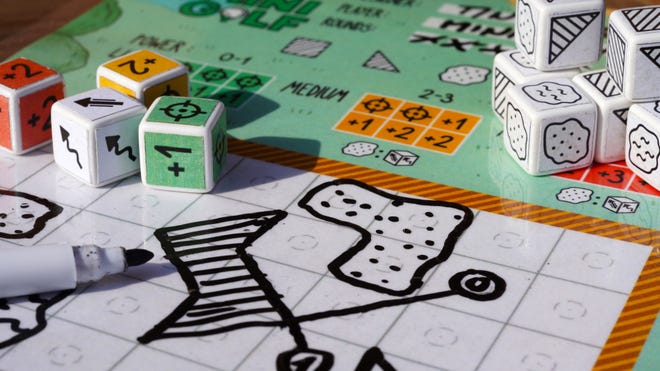 Designer Kamis Kaminski originally created Tiny Mini Golf for a roll-and-write game design contest hosted on BoardGameGeek, where it scooped awards in the Best Multiplayer Game and Best Written Rules categories.
In the time since, Kaminski has developed an additional spectator mode and playtested a solo variant, with plans to launch a Kickstarter campaign for a print-and-play version of the finished game on September 26th.
The crowdfunded release of the game will feature art from Polish artist and illustrator Dixie Leota, as well as download dice faces to allow players to recreate the game's custom dice for terrain and golf shots at home. (Kaminski has also released digital die faces for use with a virtual dice roller.)