Submarine sim board game U-BOOT resurfaces on Kickstarter with a massive miniature almost one metre long (Sponsored)
Publisher Phalanx reckons the 90cm U-boat is the biggest miniature ever made for a board game.
This article is sponsored by Phalanx. Find out more about U-BOOT: The Board Game - Collector's Edition and back it on Kickstarter until November 3rd.
Co-op board game U-BOOT has returned to Kickstarter with a brand new Collector's Edition of the World War II submarine simulator. The brand new box packs in a new custom mission maker mode alongside the original game, plus a whopping 90cm model of the players' U-boat - claimed to be the biggest miniature ever made for a board game.
U-BOOT first emerged back in 2019, combining the hectic real-time management of the submarine's crew by players - each with a different role aboard the vessels, from captain and first officer to navigator and chief engineer, represented by a unique player board - with a mobile companion app used to simulate the movement and AI behaviour of enemy subs, as well as instruments such as a periscope.
Each player takes control of eight sailors, needing to assign half of their crew - while the other four rest - to different stations around the ship. From plotting a course and steering to maintaining systems and looking after the crew's morale, the players must work together to complete various mission objectives while avoiding detection by Allied forces. Scenarios can be tackled as standalone missions, a series of connected scenarios or a complete campaign.
U-BOOT's Collector's Edition includes a second printing of the board game, with its gameplay remaining unchanged from the original edition. What is new is a Mission Builder module that can be used to create custom scenarios in the companion app. Possible mission objectives range from laying mines to hunting enemy subs, with the player able to customise the scenario's map layout, difficulty and the type of enemies encountered. Scenarios created using the Mission Builder can then be shared online with other players.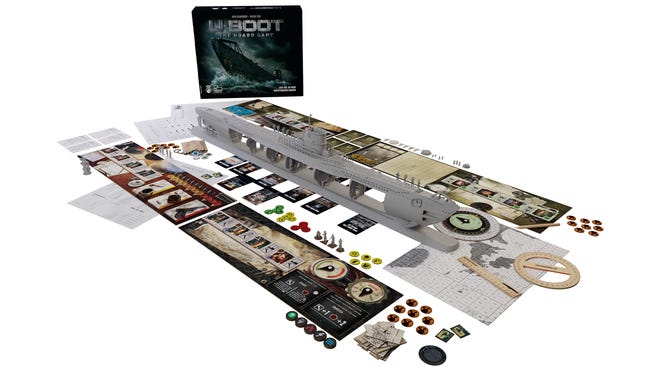 The headline addition for the Collector's Edition is a new plastic U-boat designed to replace the 3D cardboard standee included in the original game's box. The miniature is a 1/72 scale model of a German VIIC U-boat and measures in at a huge 90cm - something that Phalanx believes makes it the largest miniature ever included in a board game. (It splits into multiple sections that then snap back together using magnetised joints to make it easier to pack away and store.)
As well as being highly detailed, the submarine miniature includes working parts in a moveable rudder and sprue, and features immersive LED lighting that can be changed between red, white and blue using a remote control.
The Collector's Edition will also pack in the original cardboard U-boat, along with dozens more plastic and resin miniatures, and over 400 cards and markers.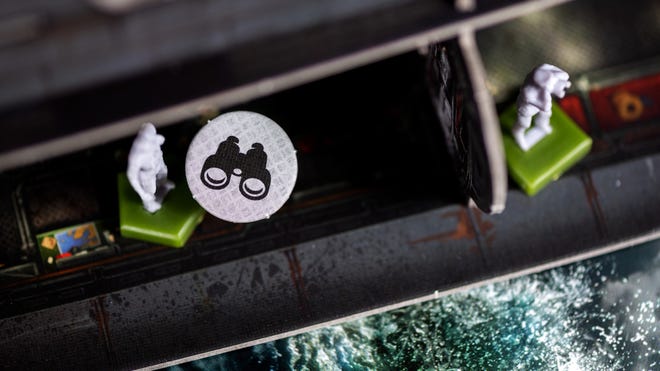 U-BOOT: The Board Game - Collectors' Edition is being offered via a Kickstarter campaign set to run until November 3rd, which has almost more than tripled its £50,000 crowdfunding goal at the time of writing. The campaign offers a £20 upgrade pack for existing owners of the first edition with an updated rulebook and player aids, as well as the plastic U-boat with the upgrade kit for £99.
For £160, you'll get the complete Collector's Edition including the game, the submarine model and the upgrade kit, while the £199 Ultimate tier will add a neoprene playing mat and resin markers.