CollegeHumor is releasing a party game based on its Um, Actually! YouTube series
Reply guys universally suck.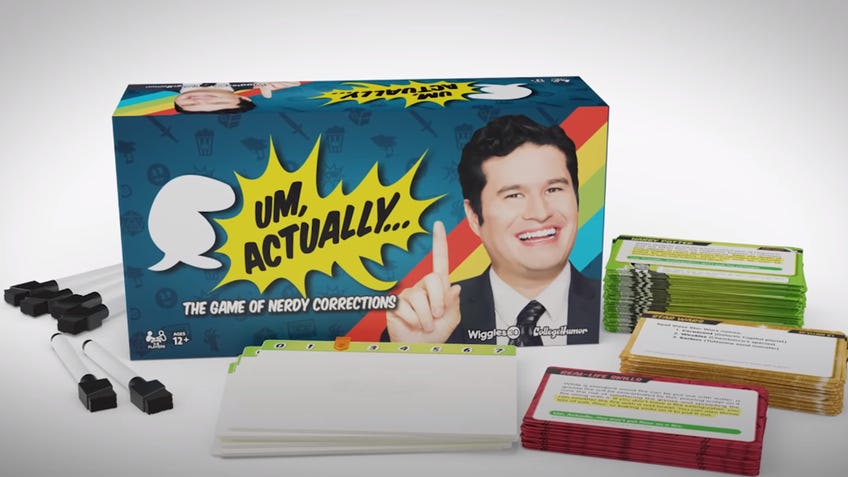 Catch friends making pop culture mistakes in Um, Actually! an upcoming board game from comedy YouTube channel, CollegeHumor.
Based on a series hosted on the CollegeHumor channel, where contestants must identify what they think is wrong with a statement about pop culture, Um, Actually! has players attempting to call out their opponents on false facts. A party game for four to eight players, Um, Actually! features a collection of question cards centred around particular genres or types of pop culture - such as fantasy, cartoons, comics, sci-fi and games - which players must take turns to draw from and read out.
As the host, players must present a question to the other players, who will need to identify which part was incorrect and why. Players who think they know the mistake can say "um, actually!" and then attempt to point out what was wrong. If players are struggling, then the host can hint at the mistake by using the highlighted section of the question card, which will narrow things down. Once the players have completed three questions, the host can read out a Shiny question - which could involve the players doing any number of different tasks, from drawing something from memory to answering a more straightforward question.
At the end of the game, the players must answer a Real-Life Skills question. Unlike the other questions in Um, Actually!, the Real-Life Skills questions are focused around subjects outside of pop culture, such as spelling practice. After the Real-Life Skills question has been completed, whichever player has the most points becomes the winner of the game.
CollegeHumor is a YouTube channel centred around comedy, including animated videos on pop culture topics like Pokemon or Star Wars, as well as live action sketches on subjects like corporate marketing and a variety of game shows.
Um, Actually! is being released by Wiggles 3D, the studio responsible for publishing the quick board game 5-Minute Dungeon - that has players working together to defeat enemies by playing cards and winning within five minutes - and its follow-up, 5-Minute Mystery.
The Kickstarter campaign for Um, Actually! is currently live until June 16th with a pledge of CA$38 (£22/$31) getting a copy of the core game that's estimated to be released in August 2022.