Titanfall 2 and The Expanse inspirations for the next Undaunted board game
"I don't think you can make a game with mechs without mentioning Titanfall 2."
The next board game in the Undaunted series took inspiration from The Expanse and Titanfall 2.
The Undaunted series of deckbuilding board games have players commanding units using decks of cards, with the opportunity to change and/or add to your deck as the game progresses. Players compete as opposing sides in a conflict, with Undaunted games challenging players to complete their respective objectives before their opponent does.
Depending on whichever side they're controlling, players will have access to different units – each providing a unique tactical approach. Players will be able to deploy, move and command their units using their decks, which they will be able to augment throughout the game by buying and trashing cards. Eventually, players will have curated a strategy that enables them to achieve their goals and win the scenario, with each entry of the series presenting a selection of different ones.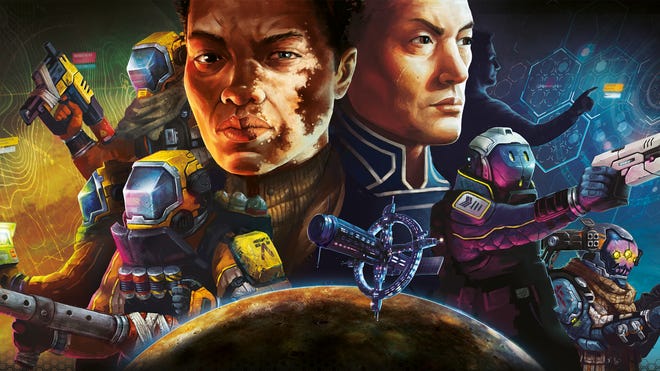 Whilst previous entries in the Undaunted series have taken inspiration from real, historical battles that took place during the Second World War – such as the Undaunted: Stalingrad and The Battle of Britain - Undaunted 2200: Callisto is an upcoming board game that takes place in an alternate future wherein humanity has established a mining colony on the moon. Players will be able to choose to take control of the forces of the Earth's most successful corporations or those of the mining collective, who have chosen to rebel against their employers.
In an interview with Dicebreaker, co-designer Trevor Benjamin and artist Roland MacDonald spoke about how the new entry will differ from previous iterations in the Undaunted series, particularly in regards to its theme. Benjamin confirmed that there would be new gameplay mechanics never-before-seen in an Undaunted game and that Callisto would provide a more "accessible" experience.
Dicebreaker plays Undaunted: North Africa with co-designer David Thompson.
McDonald spoke about the fact that Callisto's sci-fi theme had provided a new opportunity to explore artistic avenues outside of Undaunted's previous World War II board games. When outlining the inspirations the artist took, McDonald flagged the science fiction TV series The Expanse as a "hard sci-fi" inspiration, as well as the video game Titanfall 2.
"I don't think you can make a game with mechs without mentioning Titanfall 2, it's awesome," McDonald said, "The mech on the front cover of the box is really a nod to Titanfall 2."
Undaunted 2200: Callisto is set to be published by Osprey Games – the studio behind the previous entries in the series – sometime next year.