Just in time for Attack on Titan ending, the anime is getting a collectible card game next year
Dedicate your cards!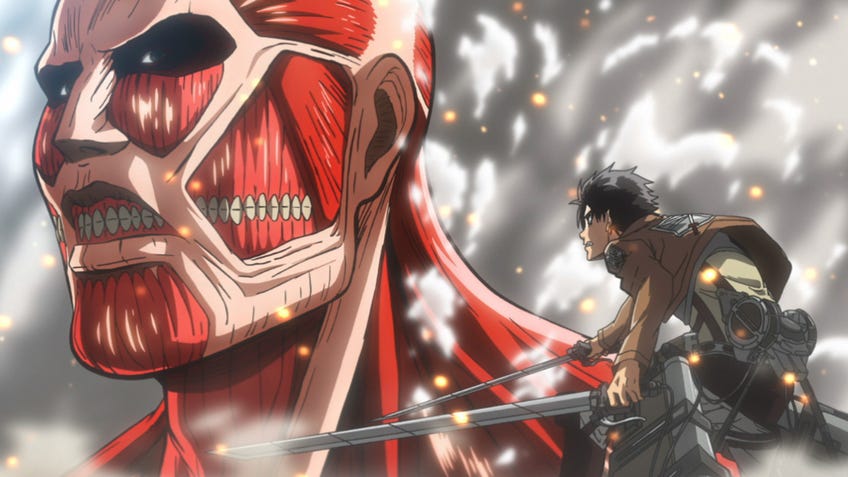 Hugely popular manga-turned-anime series Attack on Titan finally brought its anime to an end last week, tying up its decade-long story of a last bastion of humanity battling against horrific people-eating giants. (At least, that's how it starts out, anyway.) With creator Hajime Isayama's story all wrapped up on paper and on screen, Attack on Titan is now headed into cardboard with an upcoming collectible card game.
The Attack on Titan CCG will be released as part of the UniVersus Collectible Card Game, the universe-hopping TCG that already counts series such as Cowboy Bebop, My Hero Academia and Trigun (specifically, its remake Trigun Stampede) among its anime offerings.
Attack on Titan's addition to the line-up will allow familiar faces from the universe - none have been specifically confirmed to appear as of yet, but you can bet on seeing Eren Yeager, Mikasa Ackermann and Armin Arlert show up, along with the likes of Levi, Zeke and some titans to boot - to battle against both each other as a standalone game and characters from UniVersus' other pop-culture sets.
UniVersus cards can also be played against those from its predecessor, the Universal Fighting System, which spanned sets based on video games including Street Fighter, Mega Man and Mortal Kombat, if you've ever wanted to see Eren get Spinning Bird Kicked by Chun-Li.
The Attack on Titan CCG will feature Isayama's original artwork from the manga, as well as "reimagined" artwork, publisher UVS Games said.
While UVS is yet to reveal any cards from the upcoming game or detail its line-up of products - which will presumably include both single decks and booster packs, as with other UniVersus sets - we do know to expect a release date sometime in 2024.