Ascend your demigod child to the throne in hidden role game Veiled Fate
Direct lie-neage.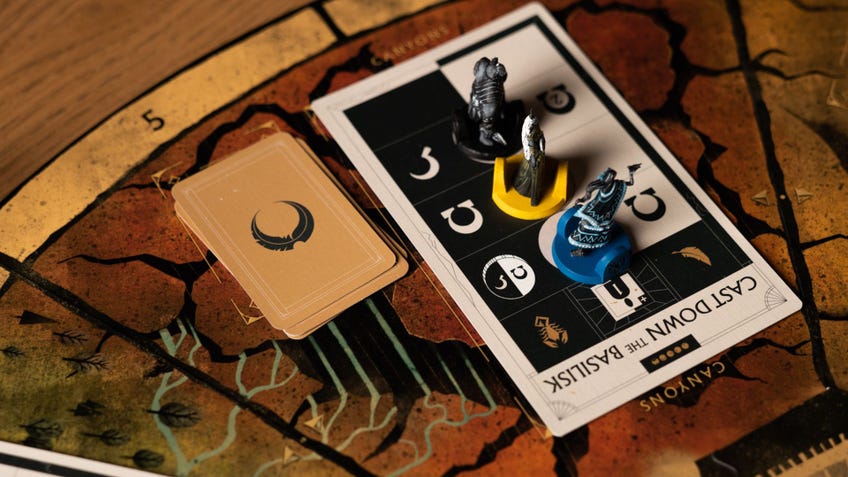 Veiled Fate, a hidden role game about manipulating gods and ensuring a divine legacy, is live on Kickstarter right now.
The upcoming board game supports two to eight players and takes place in a mythical land where a pantheon of celestial beings are vying for control. Players assume the role of a celestial hoping to influence the mortal world by placing their demigod child on the throne, with the other players also looking for ways to sneakily install their offspring into power
.
At the start of the game, players will be secretly assigned one of nine possible demigods, which they keep facedown throughout. Player actions can affect any one of the demigods, regardless of their assigned charge.
During a player's turn, they can choose to perform two actions using their cards and the standees on the board. By moving one of the demigods to certain locations, players to have that character embark on quests in the hopes of gaining more renown. The outcome of these quests is determined by a secret vote, in which players are able to lay down fate cards that show feathers or scorpions.
More feathers result in success - gifting that demigod a particular amount of renown - while a greater number of scorpions equals failure. Being unsuccessful on a quest can force a demigod to be banished to the abyss, making things difficult to the player assigned to them.
As a hidden role game, Veiled Fates sees players attempting to subtly carry out their plans without the rest of the group cottoning on. Players can use one of their god powers during the game to push things in their favour by instantly moving demigods, banishing them to the abyss or foreseeing the outcome of a quest. Plans can also be affected by whichever age card is currently in play and which city cards are active in which locations.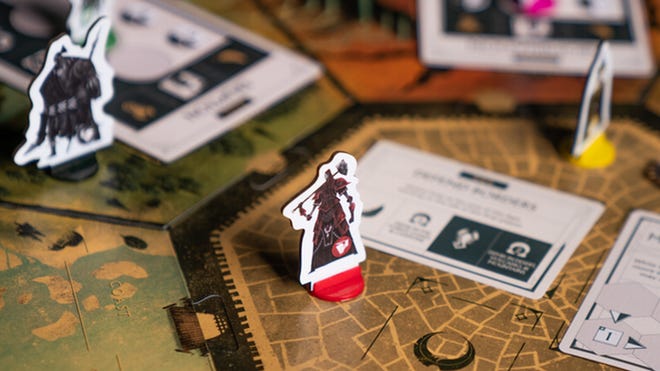 Veiled Fate was co-created by Austin Harrison and Max Anderson, who previously worked together on science-fiction deckbuilding game Moonrakers. IV Games is the publisher responsible for releasing both titles.
The Kickstarter campaign for Veiled Fate is live until November 1st, with a pledge of $65 (£51) getting backers a copy of the core game set to be released in June 2021.