Gloom of Kilforth creator reveals solo deckbuilding board game Veilwraith
Multiplayer possible with extra copies.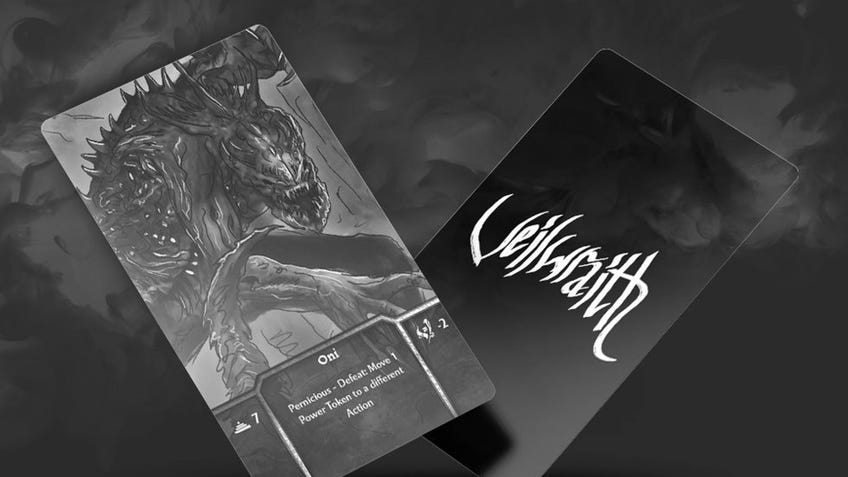 The creator of fantasy adventure board game Gloom of Kilforth and its sequel Shadows of Kilforth has announced his next project, single-player deckbuilder Veilwraith.
Designed by Tristan Hall, who also created historical card game 1066, Tears to Many Mothers, Veilwrath is a solo board game that pits a lone player against a number of threats as they seek out five keys.
The game takes place across a connected campaign of multiple scenarios, known as vignettes. Each vignette requires the player to defeat all of the monsters spawned by the threat deck and collect the five keys, making it to a portal before time runs out.
Veilwraith is a deckbuilding game, starting players out with a small deck of 'memory' cards that they add to over the course of multiple rounds. These cards can be upgraded over the length of the campaign, as well as combining together to pull off more powerful actions and abilities.
A playthrough of Veilwraith takes around half an hour to 40 minutes, with multiple bosses and encounters offering a level of replayability.
While Veilwraith is primarily a solo board game, the deckbuilder supports multiplayer. Each player needs to have their own copy of the game
Veilwraith is currently live on Kickstarter, where its campaign has sailed past its initial goal of £15,000 and is currently sitting at more the £50,000. The campaign runs until April 30th, with the game expected to arrive with backers in December 2020.