Dark Souls and Lord of the Rings were key inspirations for this solo roleplaying game
Wandering Souls.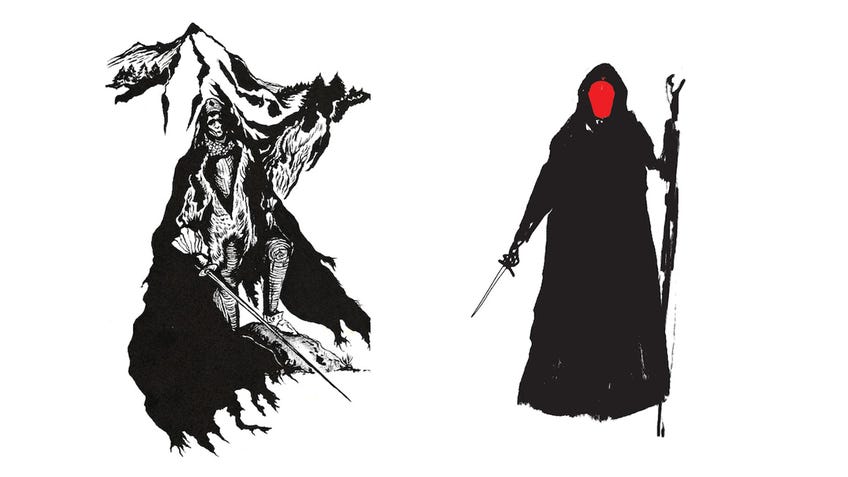 A new solo tabletop roleplaying game takes inspiration from the likes of the Dark Souls video game series and The Lord of the Rings.
Wandering Souls is an upcoming RPG that sees players exploring The Shrouded Realm, a low-fantasy world that's seen an invasion of a strange fog and terrifying creatures. Within the game, players take on the role of wanderers searching The Shrouded Realm for their next quest and trying to stay alive.
Set in the same world as Wandering Dreams – another solo roleplaying game, one that took inspiration from the FromSoft video games Dark Souls and Bloodbourne – Wandering Souls examines the relationship between elements of dark and light, taking elements from JRR Tolkien's The Lord of the Rings and the Dragon Age franchise of video games developed by Bioware and published by EA.
Wheels highlights some of the best solo roleplaying games out there.
Players begin the TRPG in a starting location within the world, receiving a quest from a local before setting out into The Shrouded Realm proper. Quests within the tabletop roleplaying game vary in length, with some having multiple steps and others featuring just one goal. Along the way, players will encounter numerous creatures – both friendly and not-so-friendly – as well as witness events. Once their quests have been completed, players can return to their starting location to recuperate and reflect on their journey.
During their time in The Shrouded Realm, players can decide how much they want to get involved in the tug-of-war between the forces of light and shadow, or if they would rather just pursue quests that will get them by. Throughout the fantasy RPG, the player character will have to overcome various obstacles whilst exploring, whether it's extreme weather or a toxic miasmic swamp. Whenever they encounter an enemy, players will need to roll two D6 dice and add a relevant stat to determine whether they are able to overcome their enemy.
Watch on YouTube
Liv shares some of the best fantasy roleplaying games available.
Over time, the player character in Wandering Souls will be gradually consumed by an entity known as The Shadow. The solo RPG uses a gameplay system involving a deck of cards, which players will draw through to determine what kind of events or outcomes take place. Whenever the player draws a Joker card, their character's Shadow level is decreased by one. Once a player character's shadow level is reduced to zero, they are consumed by shadow and leave a cursed legacy behind.
Wandering Souls was created by Cody Barr, the founder of Sleepy Sasquatch Games and designer behind the aforementioned Wandering Dreams and other solo RPGs such as Glide and Courier.
The Kickstarter campaign for Wandering Souls is live until February 11th, with a pledge of CA$15 (£10/$11) getting backers a physical copy of the book in June. Alternatively, a digital copy is available for a pledge of CA$10 (£7/$7).