Warhammer: Warcry goes dungeon-delving in new core set Catacombs
Wargaming underground.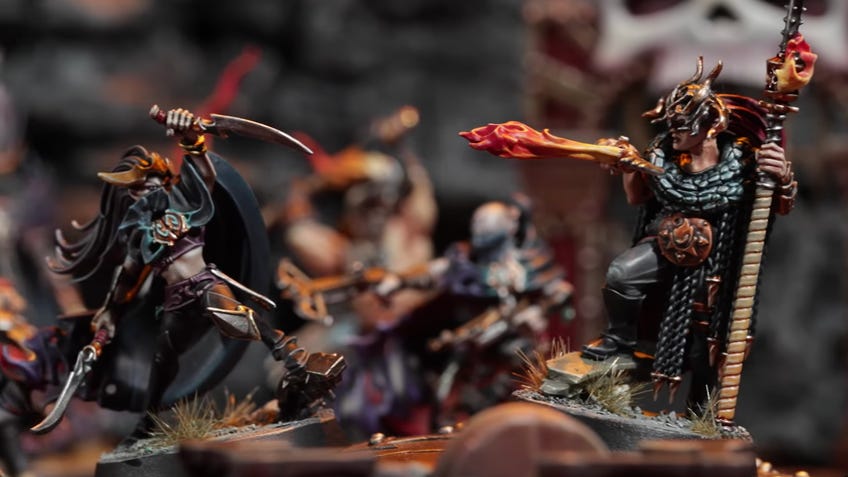 Warhammer: Age of Sigmar spin-off Warcry is headed underground in a new core box, Catacombs.
Catacombs follows last year's original starter set for Warcry, which featured the Untamed Beasts and Iron Golem warbands, along with a selection of terrain and everything needed to play the game out of the box. The starter set was subsequently followed by a number of expansions introducing new factions to the game.
Although Warcry's models were compatible with Age of Sigmar's full wargaming rules, the boxed game was based on a new gameplay system designed for close-quarters skirmish battles with small handfuls of models.
Warcry: Catacombs takes the action to the dungeons under Skullpike Mountains, which are filled with traps, lava and various other dangers. The new Catacombs rulebook in the set will include Tunnels of Death rules specific to the dungeon and underground environments, as well as fated quests and missions for narrative play based on Warcry's campaign system.
As with the previous core set, the box will include two warbands for players to use. The stealthy Khainite Shadowstalkers and fire-wielding Scions of the Flame can face each other on Catacombs' double-sided battlefield board or be used in larger-scale Age of Sigmar battles using the included warscrolls.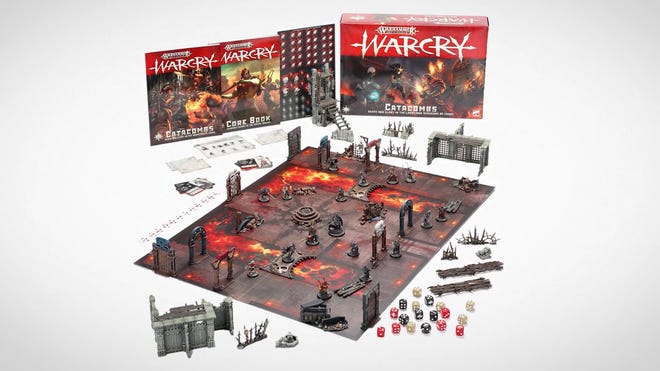 The Catacombs core set will include the core Warcry rulebook - providing options for open, matched and narrative play, as per Age of Sigmar's core rules - and the new Catacombs supplement, as well as a full set of miniatures for each warband, 37 pieces of 3D terrain, dice, tokens, a range ruler and the double-sided game board.
Games Workshop announced that it would release an additional board pack for Catacombs that includes two more double-sided boards, for four additional environments.
As well as the new core set, existing Warcry warbands will see the release of starter packs that include the miniatures, tokens and cards needed to add each faction to the game. The four upcoming starter packs include the Skaven, Kharadron Overlords, Flesh-Eater Courts and Ironjawz.
Catacombs is yet to have a release date or price officially confirmed by Games Workshop.