Warhammer 40,000 app launches on mobile, includes 9E rules for free
Out now on Android, with iOS arriving "very soon".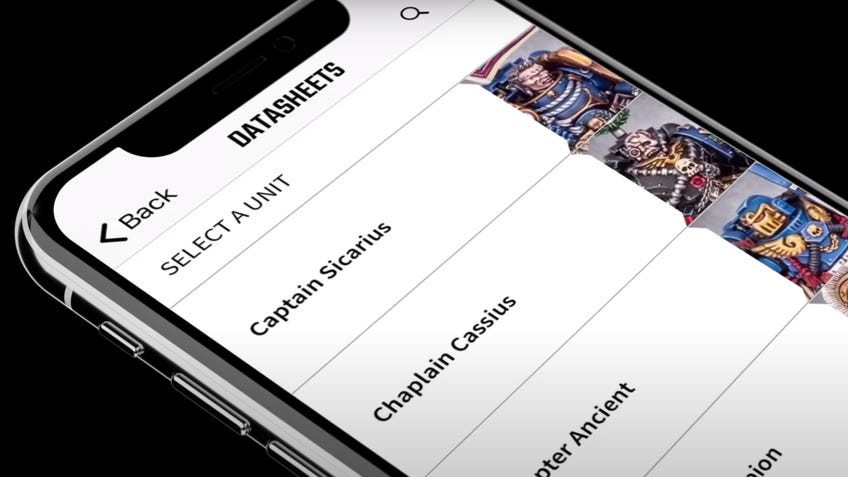 Warhammer 40,000's long-awaited app has arrived on mobile, bringing the miniatures game's latest core rules to phones and tablets for free.
The Warhammer 40,000 app is available now for Android devices via the Google Play store, with a launch on iOS for iPhone and iPad due to follow "very soon", Games Workshop said,
The app is free to download, which provides access to the latest ninth edition core rules for Warhammer 40,000. Ninth Edition launched earlier this month as an update to 2017's Eighth Edition, with widespread gameplay improvements and an increased focus on narrative play. Johnny spent some time with 9E's first boxed set Indomitus ahead of its release last week, finding it a decent way of getting into the storied game for total newcomers along with some worthwhile improvements for existing players.
As well as the core rulebook, players can enter codes from Warhammer 40,000's faction-specific codexes to unlock the respective rules in the app, including point values for competitive play, stratagems - unique abilities purchased using command points - and other up-to-date information.
A premium subscription, costing £3.99 a month, unlocks extra features in the app, including the option to search through the reference quickly for particular rules. Premium will also provide access to an army builder function for creating Battle-forged army lists validated as legal for use in Matched battles, due to be added as a later update.
Subscribers will additionally have access to the rules from Eighth Edition codexes "while valid", including details on units and factions not yet adapted for Ninth Edition.
It's worth saying that user reviews for the Android release of the Warhammer 40,000 app have not been positive so far, with criticism aimed at the presentation of the free core rules as little more than a "Google Doc PDF", the limited utility of the app without paying for the subscription, the organisation of rules by the book they appear in rather than by army, the difficulty of unsubscribing from the premium tier and a variety of other seemingly wide-reaching bugs, crashes and issues. The app currently sits on just over a one-star rating from almost 2,500 users.
The Warhammer 40,000 app can be downloaded now from the Google Play store, with an iOS release date yet to be announced.