You can customise Warhammer's Age of Sigmar: Realms of Ruin's world and armies just like real miniatures
Life imitates hi-quality plastic.
A new trailer for Warhammer Age of Sigmar: Realms of Ruin dropped at the end of last week, showcasing a suite of non-warfare features that essentially let players interact with the models and levels as if they were miniatures straight out of a Games Workshop box.
When video game developer Frontier Developments plc last meted out details about the upcoming real-time strategy game based on the Warhammer: Age of Sigmar wargame, the company outlined factions and big, sweeping story beats. This latest trailer had some more of that information, sure, but focused on enticing goodies for the artists, sculptors, and diorama builders among us.
Players will be able to build their own maps using all of the terrain, topographical features and greebles they see in the main game. They can also paint their armies and pose them in dramatic moments, fiddling with the lighting, saturation and other environmental factors before either seeding their map for other people to play or sharing their lovingly crafted ork raid online.
Realm of Ruin's map editor will reportedly borrow many of the tools that the game's developers used to construct their own multiplayer maps in the Realms of Ghur. In the man game's eternal conquest mode, these maps are procedurally generated and shareable, while the core campaign flings players into a much more intentionally crafted world.
Player-created battlegrounds can go either direction, and the terrain can be painted and shaped to fit a multitude of uses. Water, foliage, base terrain, props and specific game objectives can all be modified in the map editor before players either share them amongst friends for some bespoke multiplayer matches or uploaded to Realms of Ruin's cross-platform Workshop for anyone to access.
The Army Livery feature is where colour palette sickos will probably spend an unhealthy amount of time perfectly rendering their Stormcast Eternal in the hues of their country's flag, the purple and greens of EVA Unit-01 or the pastel tones of the trans flag (make Sigmar say Trans Rights). All of the paint options come from Citadel's official portfolio of colours, and players can either create their own palettes or choose amongst preset Games Workshop schemes. Once chosen, those themes can be applied to the entire army or gifted to one special unit. If you enjoy giving each miniature its own story in washes and coats, the Army Livery feature could be a game unto itself.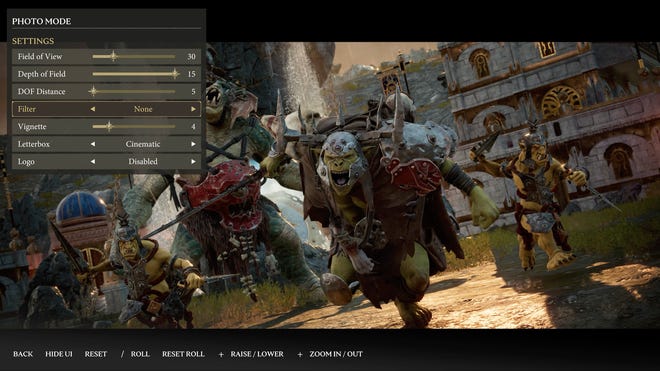 Scene editing combine elements of both previous tools and allows players to meticulously construct and capture dioramas using anything found in the main game's world. Those personalised units from the Army Livery can be posed and lit across Ghur's myriad and deadly landscapes - maybe you want to capture the moment a swarm of Nighthaunt wraiths overtake the Kurleboys encampment, or perhaps they're both getting along famously while the obvious cops of the Stormcast Eternals sulk outside. Regardless, players will have access to a surprising wealth of visual tweaking and editing to capture that perfect shot.
Frontier Developments said in a press release that the studio is investing as much care into these creative features as they are the campaign and multiplayer aspects of the Realms of Ruin in order to "[deliver] the definitive Warhammer Age of Sigmar RTS experience." All players can bust out the digital paint brushes and terrain glue, whether playing on PC or console, when Warhammer Age of Sigmar: Realms of Ruin releases on November 17th.