Warhammer: The Old World announces release date for long-awaited fantasy wargame reboot
Warhammer Fantasy's return lands in "early 2024", according to Games Workshop.
Miniature wargame players eager to once again raise their banners for the Mortal Realms won't have to wait too much longer. Games Workshop recently announced that Warhammer: The Old World hits retail in early 2024.
The publisher of Warhammer: 40,000 and Age of Sigmar officially revealed their plans to reboot the original Warhammer Fantasy Battle setting using modern rules and wargame sensibilities at Warhammer Fest 2023. Fans and players had been shown glimpses at the returning World of Legends via models and one official trailer since as far back as 2019, but now The (new) Old World can finally be slotted into their calendars and budgets.
Warhammer: The Old World should land on hobby store shelves and Games Workshop's online store in early 2024, according to the publisher. This makes it the first major release of next year, though it won't come with a starter box a la Warhammer: 40k's Leviathan set for the recently released 10th Edition rules. Instead, each faction will likely receive something similar to Vanguard boxes that contain a hefty number of units capable of building a solid starter army.
An official website for Warhammer: The Old World is now live, though it mostly serves to redirect customers to a newsletter signup, and the Warhammer Community blog contains previous model teasers and other information. We know from past announcements that the "core faction" available at launch will include the Empire, Bretonnia, Wood Elves, High Elves, Dwarves, Beastmen, Greenskins, Tomb Kings and Warriors of Chaos.
Miniatures - which will use Warhammer Fantasy Battle's square formation bases - and narrative products will focus solely on the factions mentioned above in the months following launch, but the updated rules will allow players to use, kitbash or otherwise begin planning for the rest of the factions once available in WFB's 8th Edition. These include the Ogre Kingdoms, Skaven, Dark Elves, Daemons of Chaos, Lizardmen, Chaos Dwarves and Vampire Counts.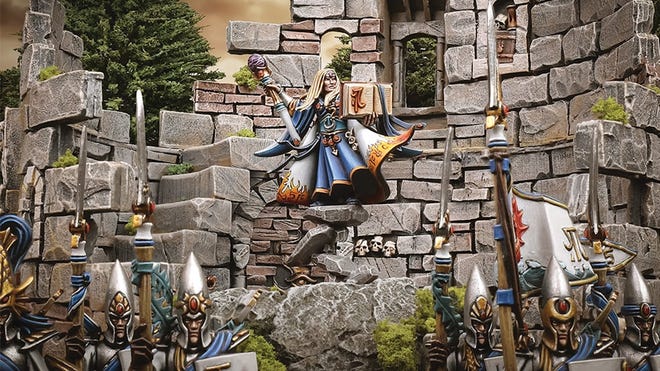 Warhammer Fantasy Battle differs from the high fantasy Age of Sigmar in both scope and genre treatment. The latter portrayed Warhammer's main fantasy world as a planet-wide battleground between Chaos gods, ancient lizard people, undead ghosts and Space Marines papered over as Order-loving angels - everything was fair game and the scope had widened to somewhat match the galaxy-spanning lore of Warhammer 40k. WFB, on the other hand, kept its framing on the Known World.
While there were magical races, mythical beasts and dragons, its general dark fantasy tone and focus on the mortal races helped to distinguish it in Games Workshop's catalogue. Seemingly, they will take a similar tack when Warhammer: The Old World releases earlier next year.