Ride whales across frozen seas in the next board game from Lost Cities creator
Krill ride.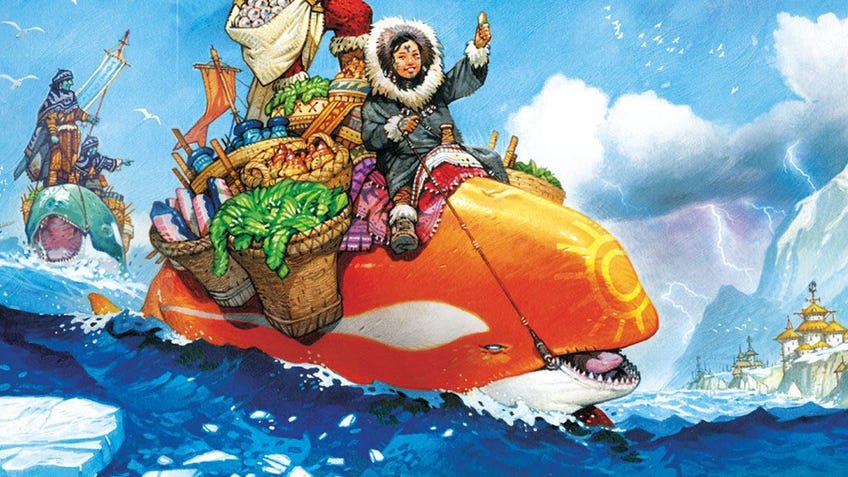 Hop on the back of a trusty whale and sail across frozen seas in search of fortune in Whale Riders, the upcoming board game from the designer of Lost Cities, Reiner Knizia.
Whale Riders sees players mounting whales in order to travel the icy waves between ports, conducting trade between the different outposts before a particularly harsh winter hits. With the glaciers moving and the frozen waters getting ever thicker, players will have to decide whether to risk it all for another job or head back home before it's too late.
The game will support two to six players, providing them with a variety of different options to take. With only two actions to spare each turn, players will need to think carefully about what they want to do. Each turn, players can choose to buy goods or sell any existing resources they have to make more money. Alternatively, they can choose to sail up the coast in order to reach other ports and see what else they can trade.
Along the way, players will need to find and collect as many pearls as they possibly can - whoever holds the most at the game's end is named the winner. Throughout Whale Riders, players will need to choose between slowly acquiring wealth by assured trades or racing to reach the richest treasures before the other players do.
Other than Lost Cities, Knizia is also known for creating Tigris & Euphrates - proclaimed by some as one of the best board games of all time - and the influential Lord of the Rings co-op board game released in the early noughties.
Whale Riders will be published by Grail Games, the company behind new editions of other Knizia titles such as Italian Renaissance-themed auction game Medici, train board game Stephenson's Rocket and the critically-acclaimed 2018 sequel to Tigris & Euphrates, Yellow & Yangtze.
According to BoardGameGeek, a Kickstarter campaign for Whale Riders is set to be launched sometime in July 2020, alongside Whale Riders: The Card Game - also designed by Knizia - in which players sail alongside others to do trade and compete against their partners when the need arises.