Train board game Whistle Stop takes to the skies in upcoming sequel Whistle Mountain
Off the rails.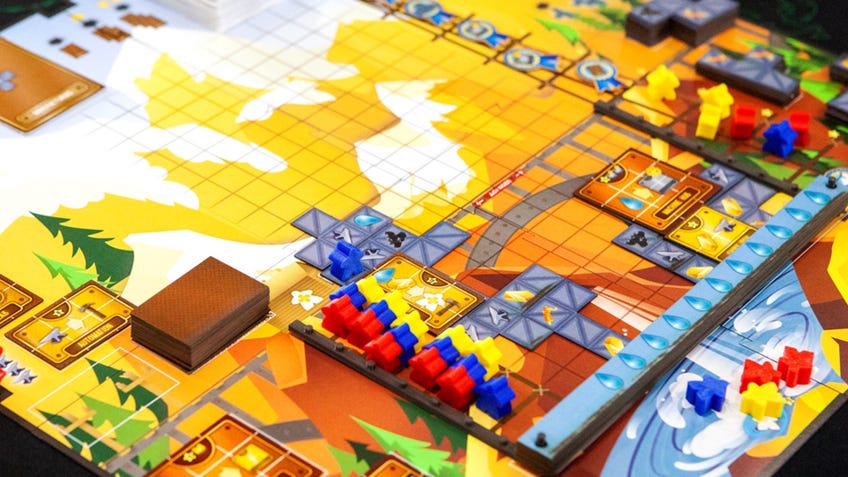 Train board game Whistle Stop is leaving railways - and the ground - behind in a new sequel arriving later this year.
Upcoming board game Whistle Mountain is a co-design from Whistle Stop creator Scott Caputo and Luke Laurie, the co-designer of Manhattan Project: Energy Empire.
A completely standalone title from the 2017 board game about building railroads, delivering goods and managing railway company stocks, Whistle Mountain swaps trains for airships and other flying machines.
Rather than laying down track and transporting cargo across the map, Whistle Mountain sees players managing their workers and resources to build up their fleet of balloons and blimps. Players assign their available workers to construct buildings and vessels, as well as upgrading their abilities.
Whistle Mountain, designed by @scaputodesign & @LukeLaurieGames, will have your strategic wheels turning as you build your way up the mountain side and the waters begin to rise below! *Images display prototype components*#GenCon2020 pic.twitter.com/dsdhOEbW5A

— Bezier Games (@beziergames) March 10, 2020
As they advance up the titular peak, the players' options fluctuate due to the board changing. Depending on what players build the available resources can change, while a rising water level can lock off lower parts of the board in later rounds, forcing players to constantly shift their tactics.
Although it's an entirely separate game to Whistle Stop, with different rules and gameplay, Whistle Mountain is described as being a spiritual sequel of sorts, with the competing corporations implied to be the same companies as the railroad rivals of the earlier game.
Whistle Mountain will be published by Bezier Games, which indicated a release at this year's Gen Con - taking place in late July - in an announcement tweet. Bezier also revealed a new train board game from Suburbia designer Ted Alspach called Maglev Metro, and a new instalment in its Silver series of party board games, Silver Coin.
Coming soon to a tabletop near you: three new games to satisfy your strategic tile placement, pick up & deliver and card gaming obsessions! #BestDayEver #MondayMotivation pic.twitter.com/N3m5z0BWK3

— Bezier Games (@beziergames) March 9, 2020