Wonder Book is a co-op board game played in a pop-up storybook from Bang! studio
Releasing later this year.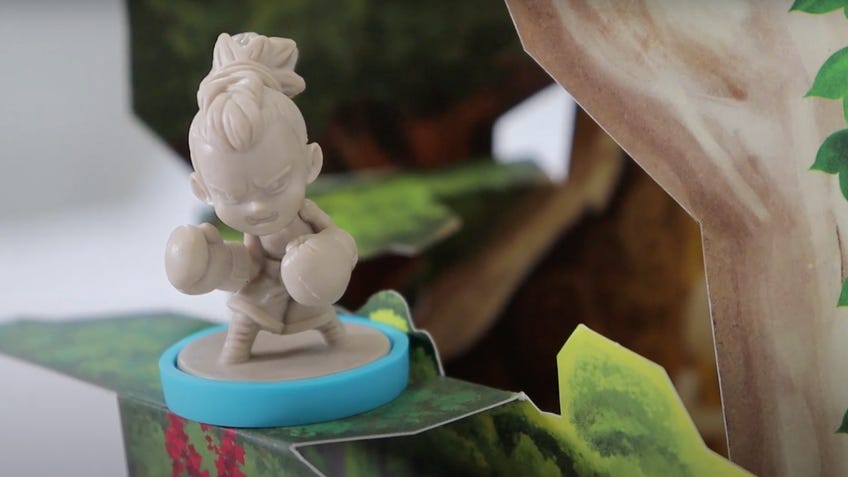 The next release from Bang! publisher dV Games will be Wonder Book, a co-op board game that uses a pop-up storybook as its main board.
Wonder Book casts up to four players - with the option to play alone in a solo mode - as a group of teenage friends adventuring through the fantasy world of Oniria.
Each session is split across six chapters, with players drawing from a deck of cards to reveal new rules, story beats and objectives. The individual scenarios are designed to be completed consecutively to form a complete campaign, with each chapter's deck of cards pre-arranged in a specific order.
The deck of cards combines with a pop-up book featuring 3D environments for the players to move their characters' miniatures around. The 3D board will include an aspect of verticality in gameplay, with miniatures placed on different levels of the cardboard terrain.
Players can perform up to three actions on their turn, from moving and fighting to using their character's unique abilities and interacting with elements of the board. After the players have taken their turns, enemies activate based on a separate card, moving, attacking and activating other effects.
Wonder Book is said to include elements of exploration, combat and puzzle-solving, as well as including mini-games discovered as each scenario progresses.
While a number of recent games have used storybooks as their board - including the likes of Sleeping Gods, Near and Far, Stuffed Fables, and Forgotten Waters - dV claims that Wonder Book is the "first interactive pop-up game".
The upcoming board game is due for release in the US this autumn.