Video game classic Worms is being turned into a board game
Incoming!
Classic video game Worms is headed to the tabletop in a board game adaptation.
Worms: The Board Game is in the works at Mantic Games, the Nottingham studio known for fantasy wargame Kings of War, the Hellboy board game, miniatures game The Walking Dead: All Out War and more.
Mantic will work with Worms developer Team17 - which has published dozens of games in the series since its debut in 1995 - to translate Worms' familiar gameplay to the tabletop.
Worms, in case you've forgotten, sees players taking turns to wriggle their squads of heavily-equipped invertebrates across randomly-generated destructible maps (2D at first, 3D in later sequels), before letting loose with all manner of ridiculous and powerful weaponry collected from crates.
Among the series' signature armaments are the Holy Hand Grenade, exploding Sheep (and its flying Super Sheep variant), Concrete Donkey, handy Ninja Rope and the classic Bazooka. You can also just prod/punch rival worms off the edge of cliffs and watch them slide into the deadly water surrounding each map. There's no word yet on which weapons might appear in the upcoming board game, but we'd expect to see at least a few of these show up.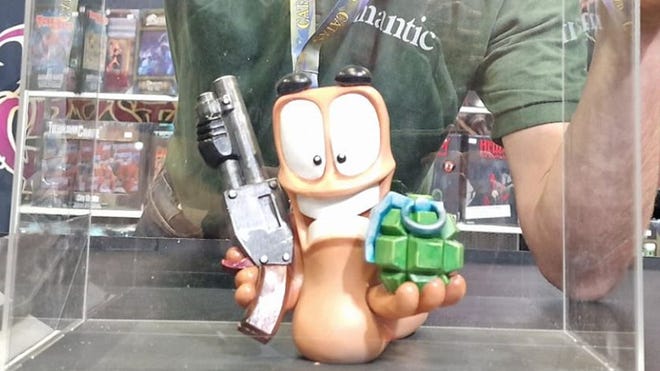 Mantic and Team17 have revealed very few details on what the Worms board game will entail by way of gameplay or contents, describing it only as "addictive, laugh-out-loud multiplayer mayhem". That said, Mantic is known for miniatures and posted images of a worm figure grasping both shotgun and grenade from last weekend's UK Games Expo, potentially hinting at what might come in the box.
Worms: The Board Game is currently in playtesting, ahead of a planned Kickstarter campaign in August. A release date, pricing and other details are yet to be announced.