YouTube creator Jacksfilms turns hit YIAY series into a party board game
"Cards Against Humanity for people who are actually funny."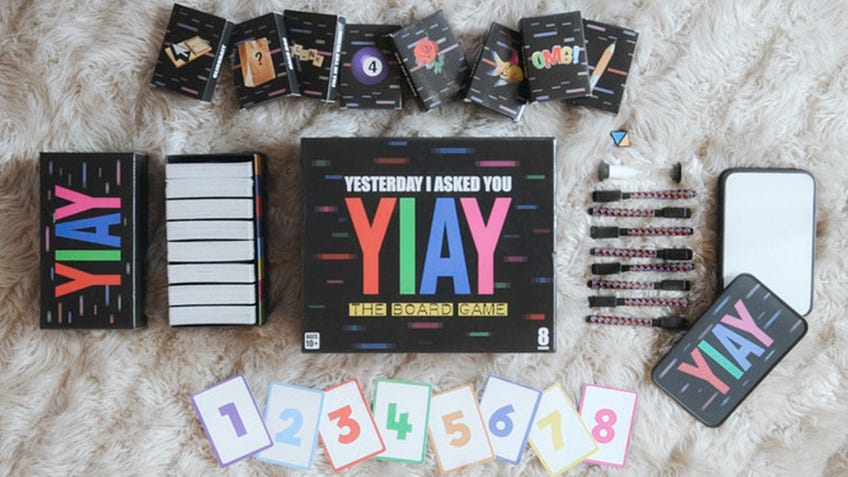 Create the funniest response to a friend's prompt in YIAY: The Board Game, a tabletop version of the comedy show hosted by YouTube creator Jacksfilms.
A party game for three to eight people, YIAY: The Board Game - otherwise known as Yesterday I Asked You - sees players attempting to provide the best answers to a series of questions focused around contemporary topics and themes. Based on the show started on the Jacksfilms YouTube channel, YIAY: The Board Game contains 4,000 cards sorted into eight different categories, with each one challenging players to respond to various queries.
The categories include writing a Twitter bio for a famous person, brand or fictional character, filling in the blank of a predetermined sentence, writing an answer in just four words, creating a rhyming poem, generating a fake fact about something, making up an acronym, drawing a response, or selecting an answer from the game's mystery grab bag.
Describing itself as being "Cards Against Humanity for people who are actually funny", YIAY: The Board Game can be played in two different ways. Players must either impress whoever is filling the role of the host that round or attempt to provide a funnier answer than the host. Players take turns to be the host, who must roll a die and select a card from the associated category, before gathering the responses from all players after 60 seconds have passed.
Whichever player has had the most answers selected - by either the host or the other players - by the end of the game is named the winner.
YIAY: The Board Game was designed by the creative team behind the Jacksfilms Youtube channel, hosted by Jack Douglass. Beginning as a series in 2015, YIAY sees Douglass inviting a group of friends and other influencers to provide funny answers to various comedic prompts.
At the end of each video, the audience are then invited to create their own responses to a question posed by Douglass in the comments on the video or via Twitter - with the host choosing which ones to present on the next video.
The Kickstarter campaign for YIAY: The Board Game is live until December 1st with CA$46 (£27/$35) getting backers a copy of the core game estimated to arrive next March.