New cards, old nostalgia and digital ambitions: Yu-Gi-Oh! at Jump Festa gave a glimpse at how the TCG will mark its 25th anniversary
As the home of Yu-Gi-Oh! prepares to celebrate the iconic series.
It's easy to forget the humble origins of Yu-Gi-Oh! within the pages of a manga that only later transformed itself from a psychological gambling story into the card game mega franchise we know today. It made its start not in the sealed packs of cards ubiquitous to many a childhood but instead on the pages of Weekly Shonen Jump, where the Millennium Puzzle that Yugi solved became a pathway not just to a multi-millennia conflict fought by the mysterious Pharaoh and the Dark Magician, but to dice games and irreverent gambling with grave consequences for the loser.
Even after the original manga drawn by the late Kazuki Takahashi came to an end in 2004 and he rose to a supervisor over the card game franchise for the rest of his life, future spin-offs and stories tying into the universe and TCG continued to find their home in the pages of Jump and its many sister magazines. Yu-Gi-Oh! has a home in the pages of Shonen Jump, often making an appearance at the magazine's yearly celebration of the many original stories that appear within its pages, Jump Festa.
The latest Jump Festa was a statement on the future of Yu-Gi-Oh! Its evolution is subtle, but as seen at Tokyo Game Show, Yu-Gi-Oh! is changing. With this change comes a repositioning of the series as it aims to attract lapsed players while drawing in a new generation beyond the cards themselves. If a digital revolution can turbocharge the future, this was a reminder that a strong future requires the game to build on the strengths of its storied past.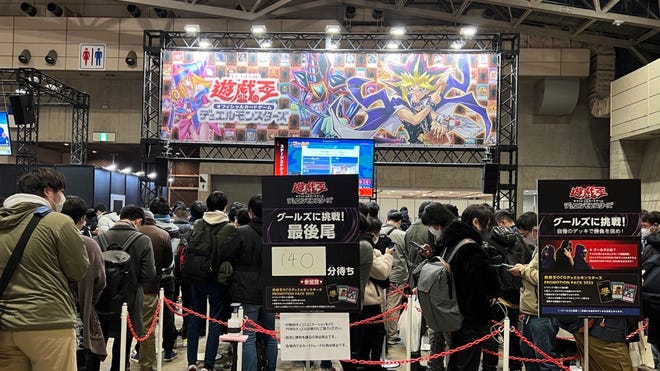 Jump Festa is an event about far more than just Yu-Gi-Oh!: it's a celebration of the biggest manga magazine in the world. As series published in its pages and online digital publications like Spy x Family and Chainsaw Man enjoy successful anime adaptations and their status as pop culture phenomena, it may be unsurprising to hear that their presence was inescapable from the moment you entered the large convention hall. The child protagonist and mascot of Spy x Family, Anya, is inescapable throughout most of Japan thanks to incessant and unavoidable merchandising, and her imposing presence at the entrance of the event is a testament to the character's popularity and just how the broader Jump landscape is evolving and adapting to the times.
A strong future for Yu-Gi-Oh! requires the game to build on the strengths of its storied past.
While these most recent hits represent the future of the magazine and Jump label, there's no forgetting the series that paved that path, as many older and long-concluded titans of manga enjoyed sizable presences at the event. Including, of course, Yu-Gi-Oh!
Running almost to the scale of the pink-haired child greeting you as you enter the event, the large Yu-Gi-Oh! booth marked its presence in the event hall at Chiba's Makuhari Messe with a large blow-up statue of Yugi Moto towering over the entrance to the booth. The statue oversaw the franchise's large presence at the festival that served as a celebration of Yu-Gi-Oh! as it exists today - from the classic card game and beloved manga incarnations that endure to the new, faster-paced Rush Duel and mobile game interpretations offering new ways for fans old and new to interact in the long-running franchise.
Whereas Tokyo Game Show centred on the Yu-Gi-Oh!'s digital expansion and ambitions, Jump Festa served as a reminder that its ambitious future is built on a legacy from the past; one that's worthy of recognition and celebration. Beyond a main stage filled with two days of events ranging from anime voice actors competing in show duels as their in-series characters and product showcases of soon-to-release cards were booths where fans could see and purchase future merchandise and memorabilia for themselves, or duel against instructors and judges dressed in elaborate series-appropriate costumes for the event. Attendees could also get free cards for participating, with plenty of chances to win and buy more for their collection.
While merchandise booths, photography and social media opportunities, and freebies were everywhere at Jump Festa, the inherently interactive nature of Yu-Gi-Oh! as a card game made its area a hub of activity. Between the digital booths making a return from TGS and the chance to learn from experienced judges and tournament organisers in real duels across all modes, even non-fans seemed intrigued by this showcase of the multifaceted nature of modern Yu-Gi-Oh!
Those at home could also freely enjoy the stage shows if they were unable to brave the show floor itself - and it was these lively showcases that provided a glimpse into how the future of Yu-Gi-Oh! is happy to lean into its legacy to guide a path to a brighter future.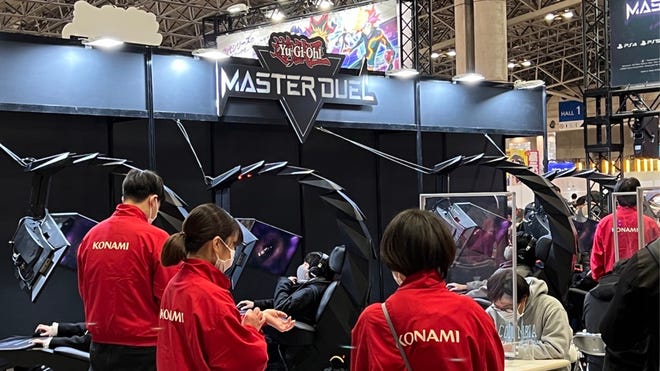 2023 marks 27 years since Takahashi's manga debuted and, more importantly, 25 years since the Yu-Gi-Oh! card game first launched in Japan. As such, new sets and product launches were tinted with the celebratory shadow of a quarter-century legacy. We got a major combo-driven reveal of new cards for Cyberstorm Access, launching in the English market in May 2023, which comes hot on the heels of the Photon Hypernova set kicking off the year for TCG players with a bang.
This new set showcase primarily centred the triumphant return of Tellarknights and the Constellar archetype with their first new support in over five years, reviving the much-loved archetype for the modern format. Tellarknight Lyra and Altea are two immediate standout effect monsters offering a speedier and more consistent strategy fit for the modern format. Lyra can be easily special summoned if another Constellar card is present, adding a spell from your deck to your hand, while Altea can target cards equivalent to the number of Light and Dark Xyz monsters on the field when summoned and destroy them. If that wasn't enough, if a Constellar or Tellarknight is special summoned other than Altea, it can special summon itself from the graveyard.
Konami is far from reliant on just nostalgia for Yu-Gi-Oh!'s future relevancy.
This pales in comparison to the threat of its new boss monster, Tellarknight Sacred Caduceus. A Rank 4 Xyz monster, it can immediately add any Tellarknight and/or Constellar card in your graveyard to the hand and, more worryingly for your opponent, banish any Tellarknight or Constellar monster from your hand or deck to take that monster's activated effect when that monster is normal summoned. As well as being an easily-summoned 2500 ATK beater, it's a new option for players of the archetype - and along with another spell card also showcased, a chance for a return to the spotlight for this beloved card type.
While other cards - including new Solfachord support - were also showcased, the choice to so prominently focus the return of a beloved older archetype matched the tone of many of Konami's other announcements as it kicked off the card game's quarter-century celebration, giving long-term fans the recognition and revivals they've been asking for.
━━━━━━━
壺𝐂𝐎𝐋𝐋𝐄𝐂𝐓𝐈𝐎𝐍
━━━━━━━
「壺」魔法カードたちが
手のひらサイズのフィギュアとして立体化️

コナミスタイルでのご予約注文https://t.co/0BEScG5Rg1
サテライトショップの詳細https://t.co/4JV2nI2iXd
ご注文申込締切まで、あと25日 pic.twitter.com/7GgGMlr8Hi

— 【公式】遊戯王OCG (@YuGiOh_OCG_INFO) January 4, 2023
Away from the card game itself, this mindset arguably holds even more true. The Pot spell cards, from the iconic Pot of Greed to modern main-deck staples like Pot of Desires, are set to get their own figurines, as will the long-beloved Elemental Charmers in the form of bishoujo figures produced as part of Konami's Monster Figure Collection. In a first for the series, Dark Magician will receive a framed stainless steel print, a collectible version of the iconic card. All of these announcements come wrapped under the banner of the Yu-Gi-Oh! Card Game 25th Quarter Century branding that will be used on card sleeves and likely denote other nostalgia-fuelled releases that seem inevitable during such a major milestone.
The continued presence of TGS' future-focused digital revolution alongside these latest reveals at Jump Festa show that Konami is far from reliant on just nostalgia for Yu-Gi-Oh!'s future relevancy. Flashy Master Duel and Duel Links displays continued to dazzle attendees and remain key tenets for the future of the series. Yet it's this reminiscent revival of the past, alongside its approach to merchandising, that gives us a tantalising glimpse at the potential focus for Yu-Gi-Oh! in 2023.
His journey may have ended over a decade ago, but Yugi Moto and his Dark Magician remains a guiding light and iconic figure for one of the world's most recognisable card games. Expect that fact to be reminded and reinforced ever more as the game celebrates 25 years in the public eye.