Yu-Gi-Oh!'s first Master Duel world champions and Duel Links winner on the sacrifice of qualifying and team camaraderie on the TCG's grandest digital stage
Team snipehunters and Jian Yu Jiang discuss their victories at the first Yu-Gi-Oh! World Championships in four years.
Basking in the glow of stage lights inside Tokyo Big Sight, not just one but five world champions of Yu-Gi-Oh! were crowned. Alongside Paulie Aronson's impressive TCG victory in the showpiece finale of the second day, winners were similarly crowned for the game's digital formats.
This year marked the return of the Duel Links World Championships for the first time since Kobayashi Shuhei came away with the top prize in 2019, while the first-ever Master Duel championships since the game's launch last year crowned its first team winner in the all-new format.
For a championship held in Japan it was already a surprise to not only see zero Japanese players, but zero Asian players at all, qualify for the TCG tournament's Top 8 for the first time in the game's history, as home team advantage failed to help any Japanese representative in any category reach the finals stage on Sunday.
Still, these finals weren't short of thrills, as Jian Yu Jiang (in-game name Takagi) overcame competition from Jonghwan Lee (Yukoo) in a dominant display to claim the Duel Links crown, while the European representatives in Team snipehunters (made up of Joshua Schmidt, Jack-Rory Steenkamer and Emre Kizilates) overcame the North American Team 7 (Raymond Dai, Ryan Yu and Jesse Kotton).
"I was quite confident in myself, but I was always only focusing on just that game and not thinking about the larger score," Jiang admitted shortly after his display in the Duel Links finals.
Unlike the TCG, Duel Links operates under Speed Duel rules, limiting the field to three monsters and spells/traps on each side of the field with more lenient summoning mechanics. The card pool also differs; as a result, the meta veers wildly from standard formats. Additionally, the game offers special duelist abilities that boost the effects of your deck temporarily for that duel.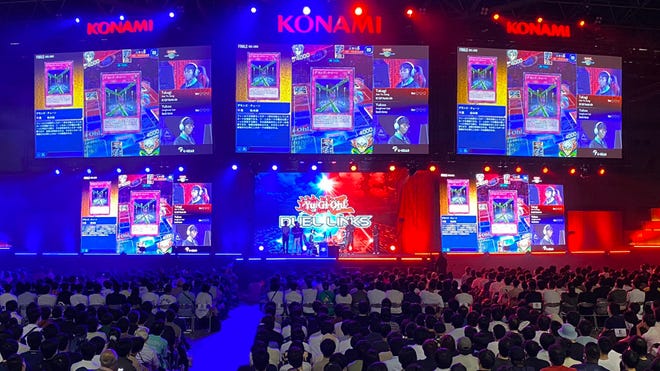 Every World Championship match was a best-of-five affair, with players bringing five decks that they could choose from for each duel. These were split between three standard decks of 20 to 30 cards, alongside an Extra Deck of up to eight cards and two Legendary Decks. While cards were limited to three copies across all five decks - unless further limited by the Forbidden and Limited list - Legendary Decks allowed duelists to select from special duelists and in-game skills that could give them an edge.
The ruleset required players to balance the correct card choices and archetypes across a range of top decks in the meta, while also considering which of their decks was the one to use their all-important skills. This strategic consideration was key to Jiang's ability, as the player recognised that all duelists would likely be using the Speedroids archetype - typically considered the strongest in-game deck of the moment - and chose to give himself an edge in battle by equipping his skill to this deck when most would instead choose to strengthen weaker decks.
I was always only focusing on just that game and not thinking about the larger score.
"I always analysed all the decks to see which was the most stable and was the strongest in the current format, and I also analysed my opponents to see which decks should go against which," Jiang explained. "Most players were putting Speedroids in their regular decks, so instead I chose to put it in my Legendary Decks to avoid facing stronger decks than that in my matchups."
This also explained Jiang's decision to play a deck generally considered more of a rogue choice in the current metagame: Crusadia. Though far from a weak choice, it was not seen as one of the strongest decks in the game coming into the World Championships. However, its decent matchup against Speedroids influenced Jiang's decision to choose the deck for the tournament and ended up being the one that propelled him to victory. As he put it: "The deck is rather stable against Speedroids, so they can have a fight."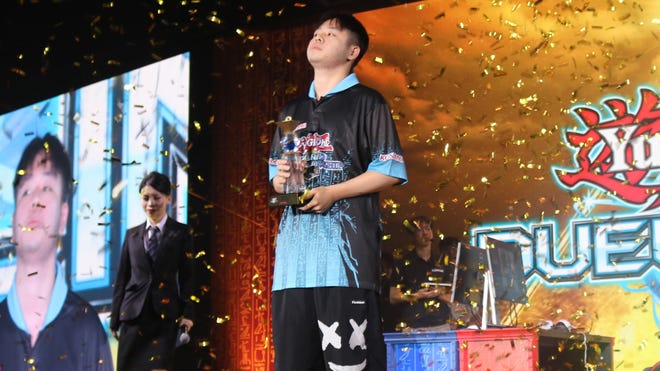 Alongside Duel Links, Master Duel crowned its first-ever world champion in Tokyo earlier this month. For the first time in the history of the championships this was a team event, allowing players to work together on their quest for victory and offer advice if they finished their match or wanted assistance. Each player on the team would bring six decks in total (two per duelist), and cards were limited to three copies (or fewer if Forbidden and Limited) across all six decks. However, each team could pick three shared cards, with these cards limited not on a per-team basis but on a per-deck basis.
In the Master Duel tournament, the first stage split the eight qualifiers into two groups. These groups would first face each other in best-of-nine matches, with each member of the team duelling players on the opposing team simultaneously until every player had been pitted against each other. If one team reached five victories out of these nine duels, they would be declared the victor. Top 4 and the finals were simple best-of-nine affairs without a group-stage competition between them.
The format was unique in allowing a sense of camaraderie and co-operation previously removed from competition in other formats. It was a new experience for all players, even those with prior experience in TCG events - including at the World Championships - but made victory a more joyous occasion that could be shared with friends. You could see this emotion clearly in Joshua Schmidt's face as tears welled up in his eyes following his victory, before being comforted by his snipehunters teammates.
All three players had been close friends from other European tournaments in the TCG before the event, with a lot of respect between each player that fueled their partnership during the event.
"It's a good thought that sometimes when you feel you can't win a certain game, you know there's a chance that your teammates have your back - like in the very first round where I lost my game," Schmidt explained shortly after the match. "It's a team game. They got my back in the first round, and I was still able to feel confident after the first loss even though I couldn't do anything in my game."
It's a good thought that sometimes when you feel you can't win a certain game, you know there's a chance that your teammates have your back.
Sharing that wealth of experience was also a key help for them in mutually raising their spirits and supporting one another on their journey over the line.
"It's a very comforting feeling, having two good players next to you," Steenkamer noted. "Josh I think is probably one of the best, if not the best. In round two when me and Emre both lost, Josh won, so we made it through with a tie. Which was not as bad as would usually be if you lose all three games. And if he's done in his game he can help you out and give good insight."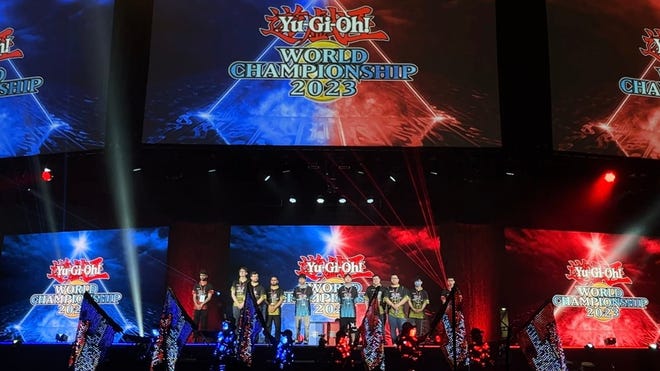 The knowledge of these players explaining their deck choices and where each game went right or wrong showed the wealth of experience each had from the TCG that propelled them to victory in Master Duel. After all, even if the card pool and limited lists are different, the rules are the same. Recognising your worth in a particular duel in that team dynamic can be the difference between victory and defeat.
Schmidt explained this dynamic as he discussed his matchups: "My first game wasn't very exciting because I went second, had no hand traps and got full Sprite combo, and there were three set cards. I knew that if he didn't mess this up he was going to win Game 1, so I just focused on looking at [my teammates'] games.
It was very stressful to qualify for Master Duel, because the entire qualifier was just a 72-hour period where you have to play as much as possible.
"In the second round I was able to beat Ryan [Yu of Team 7]. I didn't draw a combo-heavy hand because I couldn't find any of my Naturia cards. I only had the Runicks - but that turns out to sometimes be enough, because there are a lot of the good Runicks, and this time it was him not having any hand traps.
"Then in Game 3 it was the Dragon deck which has an advantage over Tearlaments, but I know [Team 7's] Jesse is someone you can very easily lose against. He opened Maxx "C" as well, which I didn't have an answer for. On the final turn I was in the process of finishing the game that turn, but I didn't get the chance because it was over."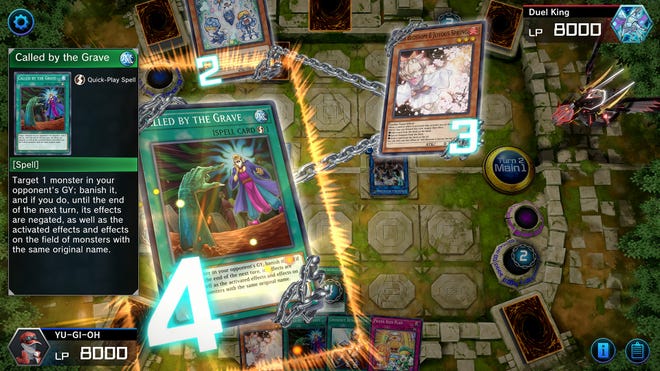 At the point of almost clinching the win in his own duel, the victory of Schmidt's teammates had already brought the team to glory.
One point of contention raised both by snipehunters and the second-place Team 7 throughout the weekend was the nature of qualification for the World Championship. Although the format chosen mirrored that of Duel Links, requiring players to rack up qualification points over a 72-hour period, the result was that many players felt compelled to expand an almost unhealthy time putting in not just their best performance, but finding the time necessary to play the quantity of games needed to ensure their place.
It didn't prevent the best players from qualifying for the event, but required considerable sacrifice. "It was very stressful to qualify for Master Duel, because the entire qualifier was just a 72-hour period where you have to play as much as possible to get as high as possible, with no limit on how much you could play," Schmidt said on the Friday before the tournament began. "The incentive was to just play the entire time and try to win as many games as possible, which was not very… let's say it was not the most healthy weekend I've had in my life. I'm not sure if it changes, but I would prefer it if it did."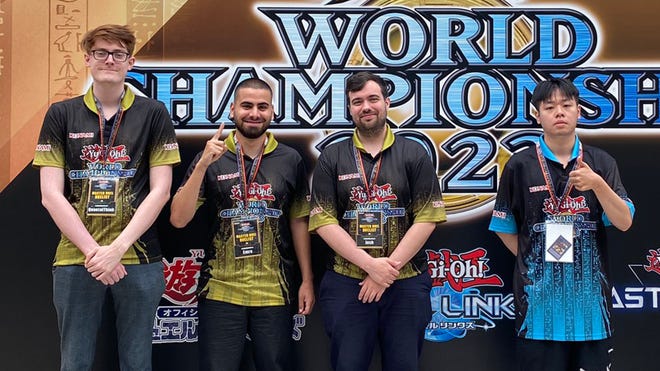 At least in their moment of victory, the sacrifice faded from the players' minds. It would be preferable if things changed to promote a healthier relationship with the game - especially as these same players praised Master Duel's effectiveness at drawing new audiences to the franchise and helping others transition to playing the physical TCG. That's a consideration for next season, but it's fair to say it wasn't the most prominent thought on the minds of the players immediately after their triumph.
Instead, the question was logistical: with three players and just one trophy, who gets to keep it? Was a mini-tournament in order to help decide an internal champion who could look after the trophy?
Before the other snipehunters members even had a chance to respond, the diplomatic response from Schmidt: "I'm gonna refer to the policy documents for this one, because it says the leader gets it!" A smile erupted on Schmidt's face, before the sound of laughter erupted through the player room. To the victor, the spoils.