New Arkham Horror Files project teased by publisher in Morse Code
Rumours of a Battlestar Galactica crossover circulate.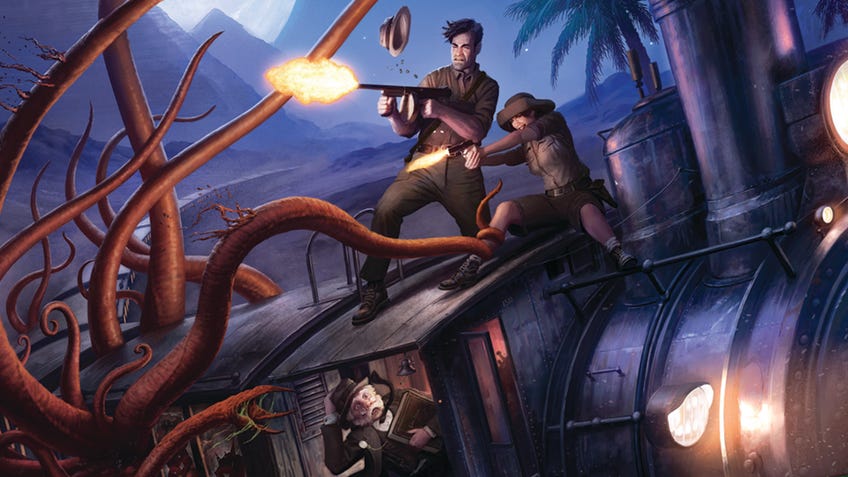 A mysterious Facebook post from the official Fantasy Flight Games account has teased a new project in the Arkham Horror Files Universe.
Entitled Unfathomable Morse Code: Arkham Horror Files, the teaser was released earlier this week and displays a blue background with a vague pattern that could indicate waves. Alongside the image and accompanying text, the post also features an audio track continuously repeating the Morse Code for SOS. Fantasy Flight Games - the studio responsible for releasing entries in the Arkham Horror Files Universe, as well as unique deck game Keyforge - has yet to reveal an official title or whether the project will be a complete board game or an expansion for an existing entry in the franchise.
The Arkham Horror Files Universe is based on the Cthulhu Mythos and includes horror board games such as Eldritch Horror and Mansions of Madness - a co-op title that has players exploring various locations filled with terrible creatures they must fight or escape from - as well as Arkham Horror: The Card Game and the Elder Sign series. A video game called Arkham Horror: Mother's Embrace was also released earlier this year and has players exploring classic locations such as Arkham Asylum and the Miskatonic University.
Rumours regarding a potential crossover board game between the sci-fi television show Battlestar Galactica and the Arkham Horror Files Universe circulated after the teaser was posted, with Reddit user Zenoy pondering whether the project would be a "social deduction game" set in the world of Battlestar Galactica.
In October last year, a post on BoardGameGeek linked to a screenshot that was apparently leaked by a Fantasy Flight playtester. The screenshot depicted an email discussing a "brand new game set in the Arkham universe that will re-implement the mechanics of Battlestar Galactica: the board game", which is a social deduction game originally released in 2008 that sees players becoming either human or Cylon crewmembers on the last surviving human spaceship. The supposedly leaked screenshot continues to discuss a title called Arkham Horror: Atlantica that will have players attempting to survive an underwater attack and potentially traitorous crewmates on a ship.
Fantasy Flight has not acknowledged the leaked screenshot, or confirmed whether the board game referenced is connected to the project teased in its recent Facebook post. Dicebreaker has reached out to Fantasy Flight Games for comment.