Blood Bowl 3, the video game based on the miniatures sports series, is scrumming this summer
Skaven more.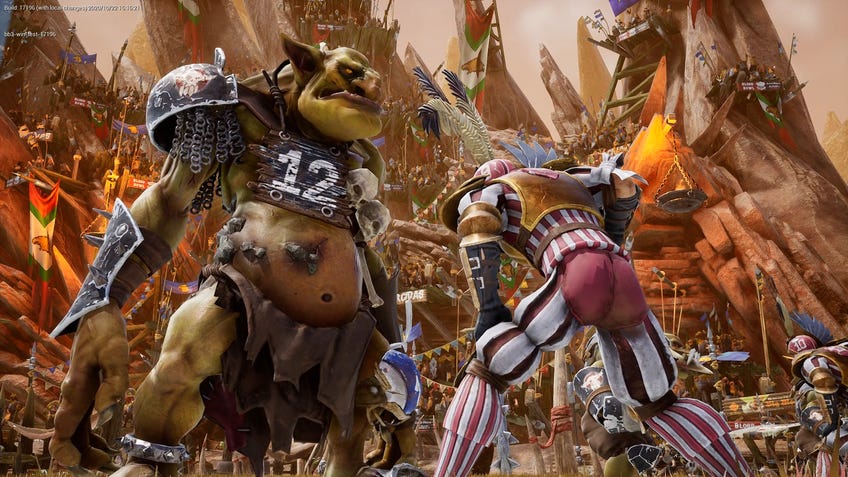 The video game adaptation of Blood Bowl, the fantasy football spin-off from the Warhammer universe, is getting its third entry in the franchise this summer.
Alongside a trailer for the upcoming game - a spoof of a Superbowl-style commercial for a fictional beer - it was announced that Blood Bowl 3 will be releasing this August. Following on from 2015's Blood Bowl 2, Blood Bowl 3 sees players competing against one another by pitting their respective American-style football teams against each other.
The digital tabletop game will feature 12 teams for players to initially choose from, including Black Orcs, Imperial Nobility - which were introduced to the miniatures series in last year's Blood Bowl: Second Season Edition - Chaos Chosen, Chaos Renegade, Dark Elves, Dwarfs, Elven Union, Humans, Nurgle, Old World Alliance, Orcs and Skaven. Each of these teams will have their own themed pitches, cheerleaders, story campaigns and multiplayer modes, alongside options to customise individual units.
Players can face-off against Blood Bowl 3's AI in a single-player campaign mode or challenge their friends online. As with the original tabletop version, Blood Bowl 3 is a turn-based game that has players controlling their various units in a fantasy football game where violence between teams is encouraged. As players gain both wins and losses, they'll be able to upgrade their chosen teams' stats and skills to become more formidable.
Blood Bowl 3 is being developed by Cyanide Studio, the French company responsible for both Blood Bowl 1 and 2, as well as digital adaptations of both the Game of Thrones television series and the Call of Cthulhu roleplaying game.
Nancon, a label that has created video games based on tabletop RPGs such as Vampire: The Masquerade and Werewolf: The Apocalypse - which was released just last week - is the publisher behind Blood Bowl 3, alongside another video game set in the Warhammer universe called Chaosbane.
Blood Bowl is a long-running miniatures spin-off series from the popular Warhammer fantasy franchise. Inspired by American football, players create and command their own teams of Blood Bowl combatants in an attempt to push the enemy team's line in order to score points. During the miniatures game, players can choose to have their units attack enemy units in order to disrupt their defence and potentially remove them from the board.
Blood Bowl 3 will be released on PC, PS4, PS5, Xbox One and Xbox Series X/S, as well as Nintendo Switch. A retail price for the video game is yet to be confirmed.