Prepare to adopt more furry friends in Cat Lady: Box of Treats expansion, coming next week
Feline frenzy.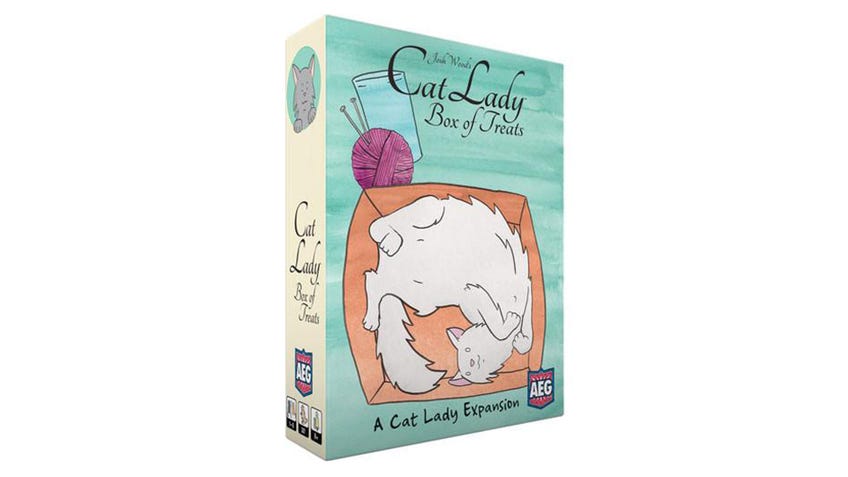 Invite even more cute critters in with the Box of Treats expansion for beginners card game Cat Lady, set to be released early next week.
Cat Lady is a simple game wherein two to four players compete to collect and care for as many feline friends as possible. With a wide variety of different cute cats to coax into the players' homes, each player must attempt to gather as many scoring cards as possible whilst being able to keep all their new pets fed and happy. Any cats left unfed will minus points from a player's total, meaning that players will need to balance their feline ambitions with their available resources.
Other than collecting cat cards, players can also draft toy cards which provide additional opportunities to score victory points. Other items include catnip, which allows extra points to be collected based on how many cats are fed, and lost card posters that offer additional chances to gain even more stray cats.
Whichever player has the most victory points at the end of the game is given the title of ultimate Cat Lady.
The upcoming expansion for Cat Lady, entitled Box of Treats, provides even more ways for players to entice and pamper all those potential cats. Aside from new treats, items and boxes, Box of Treats also features a fresh set of stray and grey cats for players to fall in love with as well.
All this new content means that the player count for Cat Lady can be expanded to support up to six people, resulting in even more competitive cat collecting fun.
Cat Lady: Box of Treats was created by the designer of the original Cat Lady, Josh Wood, who also co-created the Fortune expansion for family board game Tiny Towns and designed Santa Monica - one of the best games released so far this year.
Alderac Entertainment Group is the company behind the upcoming release of Box of Treats, it is also known for publishing party board game series Smash Up, fantasy card game Mystic Vale and deckbuilding title Thunderstone.
Cat Lady: Box of Treats is set to be released on June 28th at a retail price of $16/£12.