Trade wood for sheep in augmented reality with Catan: World Explorers
Build your own Catan settlement in real life… sort of.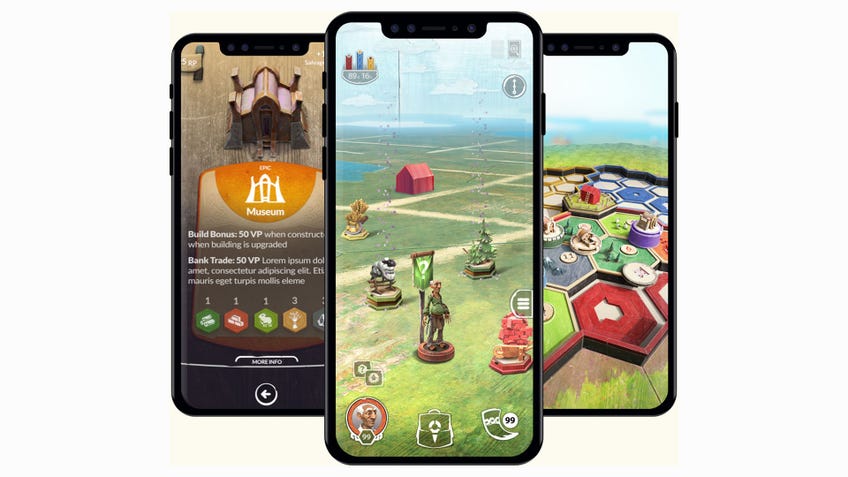 Catan is getting the augmented reality treatment in the form of upcoming mobile app Catan: World Explorers.
The AR mobile game is slated for a 2020 release, and will allow players to collect the board game's classic resources such as brick, wood and, of course, sheep, by interacting with real-world locations on their phone.
Collecting these resources will require players to travel to the select spawn points that pop-up across around key cities and landmarks in their current region. However, some resources may not be available via collection, as different regions will contain different amounts of resources. For example, sheep may be an abundant resource in your region, but grain may not. To help deal with resource scarcity, World Explorers will also enable players to trade with in-game characters, so that they can get the resources they need to expand settlements and build roads.
Players will have the opportunity to make friends and team up to collect victory points that go towards winning seasonal champion titles and rewards, which will also carry over to future seasons of World Explorers. You'll be able to compete with other players and teams on both a local and global level, alongside custom matches between you and your friends.
World Explorers was announced during this year's Essen Spiel as a celebration of Catan's 25th anniversary, which will take place in 2020.
This isn't the first time Catan has made an appearance on handheld devices, as Catan: Universe, a mobile version of the game, was released on Android and iOS back in 2016. The series even made the jump to virtual reality two years ago, with Catan: VR, which was released on a variety of platforms including the HTC Vive and Sony Playstation VR.
Niantic, the studio behind hit mobile AR games Pokemon Go and Harry Potter: Wizards Unite, has been confirmed to be involved with the development of World Explorers. (Thanks, The Verge.) But how far Niantic's involvement goes isn't yet clear, with the only clues being that the game will run on the Niantic Real World Platform.
While you wait for World Explorers' incoming release, why not pay a visit to our list of the best beginner board games to play after Catan?