Family party game Cranium is back with a "reimagined" 25th Anniversary Edition and a new MicroMacro-style puzzler
Plus re-releases of spin-offs in the popular series.
Cranium plans to mark its 25th anniversary with a new edition of the classic party game, along with a brand new kids' game.
Cranium was first released in 1998, combining parts of other popular family board games - such as Trivial Pursuit, Pictionary and charades - into a single box. Depending on the category, teams might have to spell a word backwards, act out the answer, draw a picture or sculpt something using the game's tub of clay. You might just answer standard trivia questions, too.
The game's 25th Anniversary Edition supposedly "reimagines" the original board game. As well as having challenges from the original Cranium - as well as the various spin-offs based on its colourful characters, such as Creative Cat and Data Head - the upcoming board game will have updated and new tasks across all four of its standard categories: language, performance, trivia and creativity.
Following the release of the 25th Anniversary Edition in spring, publishers Hasbro - which bought Cranium in 2008 - and Funko Games, the studio behind Jurassic World: The Legacy of Isla Nublar and other movie board games, will release a brand new entry in the long-running series this summer.
Cranium Big Brain: Detective Game is aimed at children aged five and up, and tasks players with solving mysteries by searching a large board depicting the bustling Imagination Land.
Similar to map puzzle game MicroMacro: Crime City and the Where's Wally books, one or more players must answer a series of questions by scanning the board for characters and clues - for example, finding missing items or specific details.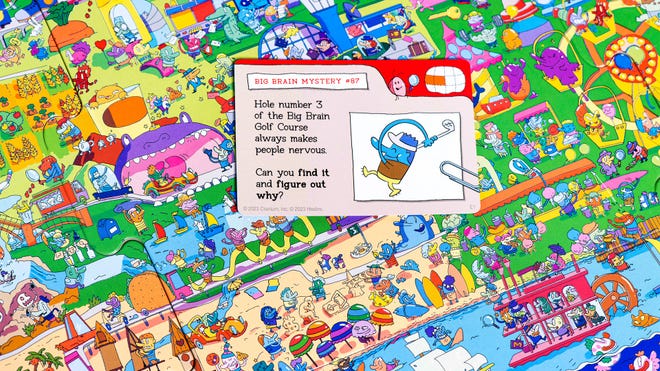 Alongside the new game, dancing-meets-Twister spin-off Cranium Hullabaloo will see a summer re-release that replaces its talking speaker with a companion app and introduces new modes.
Cranium Hoopla, a co-op spin on original Cranium set against a 15-minute timer, will also return in the summer with an additional advanced mode and 300 new cards. The 2002 game sees players working together to guess each other's cards by drawing pictures, providing alliterative clues, acting out the answer or providing hints based on 'between' comparisons, such as "It's smaller than a microwave but bigger than a loaf of bread."
Cranium co-creator Richard Tait passed away last August following complications from COVID-19. Tait co-designed the board game and founded its publishing company with fellow Microsoft exec Whit Alexander before selling the company to Monopoly, Dungeons & Dragons and Magic: The Gathering giant Hasbro for $77.5 million.