Clank! studio invites the murder mystery game into the modern age with Crimes & Capers series
New-dunnit?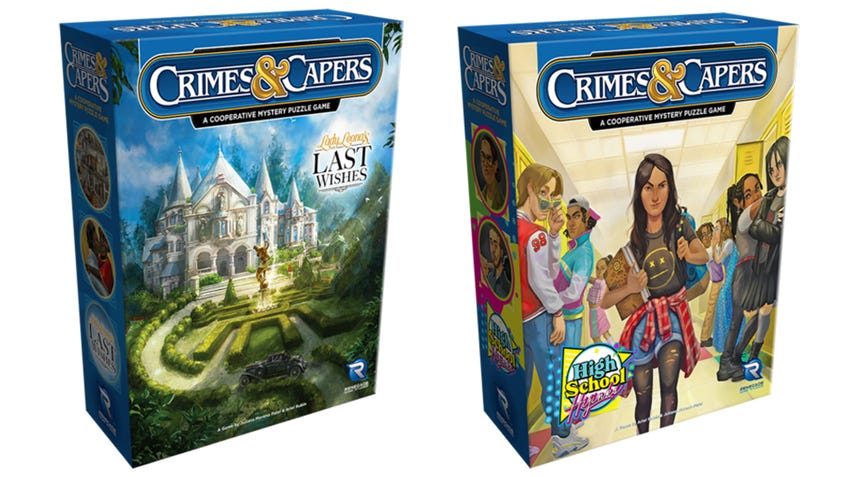 Investigate malicious mysteries in a modern manner with Crimes & Capers, an upcoming tabletop series based on the classic murder mystery formula.
Crimes & Capers is a new series made up of two different board games - High School Hijinks and Lady Leona's Last Wishes - both inspired by the murder mystery party genre, a social game that sees players attempting to uncover the perpetrator of a terrible illegal act. The duo of co-op games will transport players to two very disparate settings, a '90s North American high school and a grand estate in the early 20th century, but will share similar gameplay elements.
High School Hijinks takes place at Blair High School in 1998, with players becoming senior leaders of the educational institution tasked with discovering who has framed a student called Romi. With the threat of expulsion hanging over Romi's head, the players will need to work together to study the various notes that were passed about in class to decipher the truth. Once players have figured out the code to Romi's locker - using the notes from class - they have to go through the contents in order to figure out who framed Romi.
In contrast, Lady Leona's Last Wishes sees players attending a reading of the will of one Lady Leona, a wealthy recluse whose favourite pastime was to threaten to remove people from her will. Now dead, the players - all family and friends to the deceased woman - discover that reading Lady Leona's will is going to be more difficult than they'd hoped. Being a woman who was fond of tricky puzzles, the players will need to collaborate in order to find the treasure hinted at in the Lady's will. As an escape room game, the players will have to use the clues given to them to unlock the mystery and win the fortune.
Both Crimes & Capers games were co-created by Juliana Moreno Patel and Ariel Rubin, who have previously worked together on the Escape Room in a Box series - which includes 2018's The Werewolf Experiment and 2019's Flashback - and the video game board game Hello Neighbor: The Secret Neighbor Party Game, a title based on the horror multiplayer game that sees a group of plucky kids entering the house of their mysterious neighbour in search of answers.
The studio responsible for publishing the Crimes & Capers series is Renegade Game Studios, the company behind the release of Clank!, as well as several roleplaying games including the sci-fi RPG Overlight and the '80s inspired title Kids on Bikes.
The first two entries in the Crimes & Capers series are set to be released sometime this summer at a retail price of $32 (£22).