Leaked new Descent game Legends of the Dark will be officially revealed later this month
Follow-up to Journeys in the Dark previously teased by Fantasy Flight following accidental reveal.
The next board game in the Descent series, Legends of the Dark, will be fully unveiled later this month, publisher Fantasy Flight Games has teased.
The long-awaited follow-up to Descent: Journeys in the Dark - which saw a second edition in 2012 - was leaked earlier this year in an Amazon product description for upcoming Descent tie-in book The Shield of Daqan, which named Legends of the Dark as a "brand new edition of the hugely popular game".
The listing was later revised to remove the reference, but a trademark filing in June under the same name added credence to the potential of a new Descent sequel.
In July, Fantasy Flight teased the game at the end of its In-Flight Report stream, showing a glimpse of the sizeable box's artwork, confirming the name as Descent: Legends of the Dark and revealing its designers as Kara Centell-Dunk and Nathan Hajek, who have both worked on expansions for Journeys in the Dark.
Now, the publisher has seemingly given a date for the game's full reveal, with an FFG Live developer stream for the announcement of a "hotly anticipated product line" taking place on October 22nd.
The studio slyly acknowledged the not-so-secret nature of the reveal, writing "you probably couldn't guess what this might be" and including artwork similar to the previously teased Legends of the Dark box.
The description of the announcement as a "new product line" potentially brings into question the nature of Legends of the Dark and its place in the Descent series - along with the wider universe of Terrinoth, which has been explored in non-Descent titles including miniatures game Runewars and a supplement for RPG Genesys.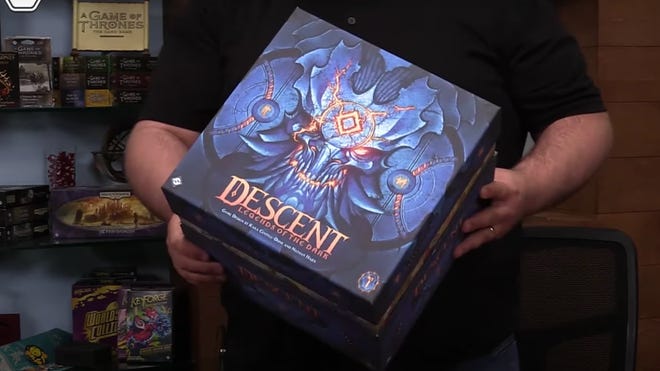 Last summer, former Fantasy Flight Games studio head Andrew Navaro said that a third edition of Journeys in the Dark was "not necessarily" going to happen, saying instead: "We are working on something Descent-related that I'm incredibly excited about. I think it's easily one of the coolest, most ambitious things we've ever done.
"With this new project we're really injecting, I think, a lot of life and depth into that world that wasn't necessarily present before. We'll be going even deeper into it going forward."
We'll find out more on October 22nd. The release date for the Shield of Daqan novel was previously announced as February 2nd 2021, potentially indicating a possible release date for the board game.