Dungeon Kart is basically Mario Kart: The Board Game, from the makers of Boss Monster
Play your cars right.
The next game from the creators of video game-styled party game Boss Monster is a chaotic kart-racing game with more than a touch of Mario Kart about it.
Dungeon Kart pits up to six players in a dash around a track to be the first one to cross the finish line. As in Mario Kart, Crash Team Racing and various other arcade racing video games, you'll be able to collect coins along the way that power up your racer's unique abilities and unleash weapons and traps by driving into spellbooks around the course.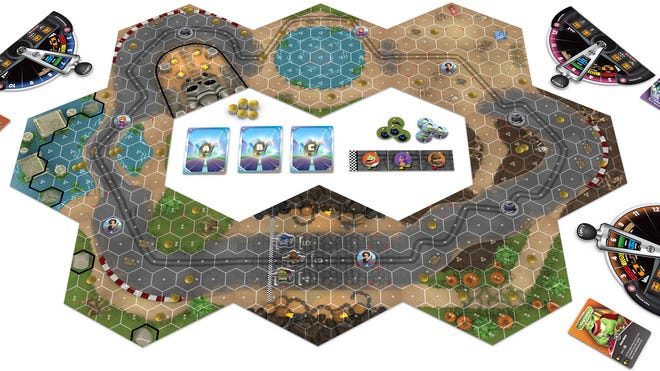 Each character - made up of returning Boss Monster bosses such as King Croak and Gorgona - and kart has different powers and attributes, reflected in a unique dashboard used to control the kart's speed as players zip around the hex-grid track. The six playable characters and six different karts can be selected separately, allowing for different mix-ups of abilities and vehicles. (The game's expanded editions on Kickstarter introduce extra characters and an additional dashboard, alongside more map tiles.)
The dashboard features a gear stick-like lever that can be adjusted up or down on the player's turn to change their speed, affecting their kart's handling on different terrains such as dirt, grass and water - and influencing their ability to drift around corners or risk spinning out.
The tracks are made up of a combination of 10 double-sided tiles, which can be rearranged to create custom layouts and varying lengths. Hazards encountered range from oil slicks and bombs to zombies and pesky heroes - a pain for the bosses. Players can also use collected spells to unleash magic such as fireballs on their rival racers or try and take the lead by teleporting ahead.
In a neat way of mimicking the rubber-band helping hand of games such as Mario Kart, that aim to keep racers in close competition, racers towards the back of the pack will draw their collected spells from a different deck to those in the middle or at the front of the group, with the chance to pull more powerful spells to help you catch up if you've ended up lagging behind.
Dungeon Kart is currently live on Kickstarter, where $50 will get you the base game due to release next August. The crowdfunding campaign will run until September 8th.