Flesh and Blood's 2023 world championship follows record turnout for new Dusk till Dawn set
That pound of flesh is increasing in value.
You might have heard about Flesh and Blood as that other trading card game living in the shadow of Magic: The Gathering and Pokémon (but winning big at Dicebreaker's 2022 inaugural awards), but don't feel too bad - the punchy, young title recently announced a world championship with a six-figure payout on the back of record attendees for its most recent expansion pre-release.
Publisher Legend Story Studios announced last week details for the 2023 Flesh and Blood World Championship, which will take place in Barcelona, Spain, from November 16th through the 19th. The world championship will cap off a year of competitive events comprising its 2023 Pro Play Circuit, which a press release claims will have doled out $1,000,000 in cash prizes across more than 90 events by the final match.
A solid $300,000 of that previous total represents the prize pool for the World Championship, in which competitors will play a mix of formats over three days for a cut of that money, along with trophies and special edition cards printed in a gold foil specifically for Barcelona's throwdown. For those unfamiliar with Flesh and Blood, it plays fairly similarly to other TCGs except that decks are focused around specific heroes instead of a bevy of monsters - equipment, special abilities and support cards fill out each player's arsenal as they try to dominate their opponent's hero.
Qualification for the 2023 World Champion will be handled in a number of ways. Players can earn an invitation by placing at the top of national championships in their country or by receiving a tournament invitation either from Legend Story Studios or other professional event organisers. Those players lurking at the top of official leaderboards will also receive an official invite.
Speaking of events, Flesh and Blood's card sets have apparently been rising in popularity, if the recent turnout to pre-release events are any indication. According to another press release from Legends Story Studios, the TCG's tenth set, Dusk till Dawn, coaxed over 17,000 attendees to local game stores across the world. Flesh and Blood styles theire set launches around chapters in an ongoing narrative told through individual card sets, a la Magic: The Gathering, and players experienced the War of the Monarch this time around.
"With a lot of major releases in the TCG market at the moment, competition in the industry is the highest it's ever been. Even with this massive activity from TCG veterans and newcomers, it's amazing to see fans of Flesh and Blood turning out to celebrate Dusk till Dawn with one another," said Legend Story Studios CEO James White These players become a part of the War of the Monarch story themselves, and in doing so they have helped us set an all time record for any single weekend program Legend Story Studios has run."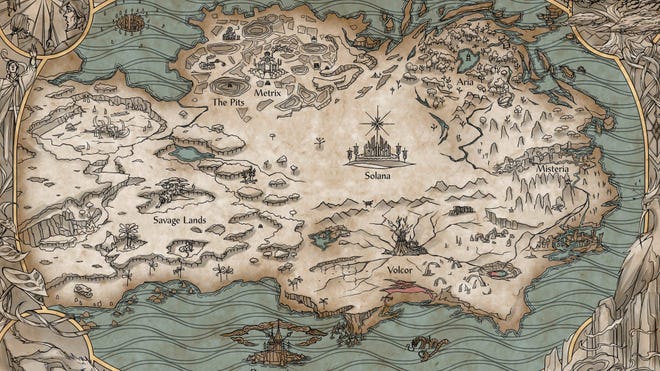 Dusk till Dawn includes 236 cards, most of which are new but also include the return of popular heroes such as Prism and Boltyn. The studio said this will be the first chance many players will have to play with these cards in a limited environment, as the COVID-19 pandemic shutdown affected their original release in 2021.
More information about Flesh and Blood's latest set and what local hobby shops are supporting organised play can be found on the TCG's official website. A specific landing page for the 2023 World Championship in Barcelona can be found here and will be reportedly updated with information on special guests, side events and other information as the competition draws closer.