The creator of The Resistance is launching 21 free social games to play with your hands
High five!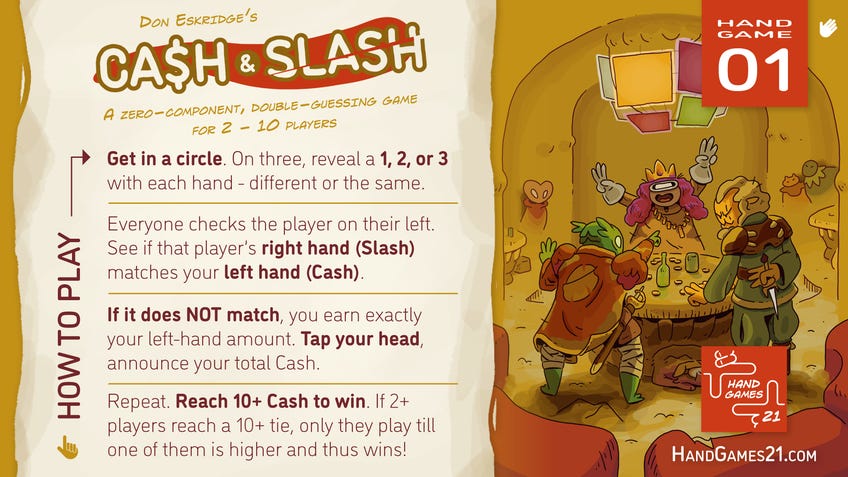 Don Eskridge, the designer behind social deduction game The Resistance, is making a collection of free 'hand games' to be released over the coming year.
Hand Games 21 is a project started by Eskridge, alongside artist Zak Eidsvoog - who has previously illustrated for tabletop titles such as the sci-fi themed board game Impulse, as well as designed their own roleplaying games like Arc: A Game About the End - with the aim of creating exactly 21 social games designed to be played using the players' hands (Thanks Reddit user SocratesofAlopece.)
Described by Eskridge as "a passion project" that they devised "in the middle of last year", Hand Games 21 currently includes a total of seven games, each only requiring the participants' hands to play. The collection features titles such as Cash & Slash - a party game in which two to 10 players stand in a circle and show either a one, two or three on both hands, with the aim being to choose a higher number on your left hand than the adjacent player's right - and Wrist War, that sees two players attempting to grab their rival's wrist whilst keeping their other arm behind their back.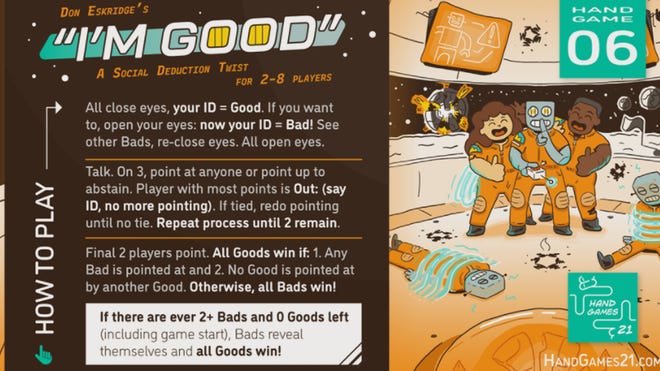 The collection also includes a social deduction game for two to eight players called "I'm Good", that has players deciding whether they're good or bad by choosing to keep their eyes closed or opening them during the first phase of the game. Afterwards, players then discuss who they think is good or bad, before pointing to whoever they want out of the group - this continues until a majority of either team is left in the game.
Besides The Resistance and Hand Games 21, Eskridge is also responsible for creating the spin-off fantasy title The Resistance: Avalon - a social deduction game set during the reign of King Arthur - Abandon Planet!, a survival game about escaping a meteor attack, and another science fiction themed board game called Black Hole Council.
Quest, another social deduction game designed by Eskridge and set in the same universe as The Resistance: Avalon, was released earlier this year after a successful Kickstarter campaign last August. An update regarding the game's shipping schedule, which was delayed from its original date in January due to COVID-19, was released on the Kickstarter page for Quest earlier this month - setting a new estimated delivery date of June 2021.
The Hand Games 21 collection can be found on the series website, with players able to read the necessary rules from each picture and begin playing immediately. The remaining titles in the collection will be released throughout the year, with Eskridge hinting at a "Hand Games 22" should the current Hand Games 21 project be successful.