HeroClix's pre-painted miniatures are getting a long-awaited makeover
After being criticised for poor quality.
Collectible miniatures series HeroClix will be receiving improvements to its upcoming figurines, as publisher WizKids promises better quality.
In a blog post on the HeroClix website, WizKids has stated that it has been looking into ways to boost the "quality of the miniatures" in HeroClix. Some players have previously criticised the figurines featured in HeroClix packs - along with other miniatures created by WizKids - for the low poor quality of their pre-painted appearance. With the release of the upcoming House of X miniatures pack - a set based on various characters from the X-Men series of comics - Wizkids said it aims to improve the "visual 'wow'" that the franchise has been seemingly lacking.
The new line of miniatures will include more expressive features and aspects, with WizKids using images of the upcoming House of X set to provide a visual comparison between previous X-Men figurines and the new ones. The blog describes how characters such as Wolverine and Nightcrawler will be remodelled in more energetic poses; Wolverine will have his claws out and Nightcrawler will be exploding out of a cloud mid-teleport.
WizKids will be increasing the scale of its HeroClix miniatures, meaning that features will be larger and therefore easier to paint. As pre-painted miniatures, HeroClix figurines have previously been criticised for lacking detail. However, according to the publisher, these larger scaled figurines will negate this, alongside additional washes and drybrush painting techniques on the manufacturer's end. Washes and drybrush techniques help give a miniature more detail - washes create shadows and highlights, whereas drybrushing gives figurines a more textured look.
The blog post confirmed that these improvements will not be limited to the House of X miniatures set, with WizKids stating that the pack would be the first produced using the new methods: "We'll maintain and increase the visual impact across the line moving forward."
HeroClix is a tabletop miniatures game originally created in 2001 that sees two players going head-to-head with their chosen set of figurines. Based on the gameplay system introduced in the miniatures game Mage Knight, HeroClix has players taking turns to move their miniatures across a grid in order to attack the opposing team. Each miniature has a different set of values that affect their ability to move and attack, with certain characters having access to unique abilities.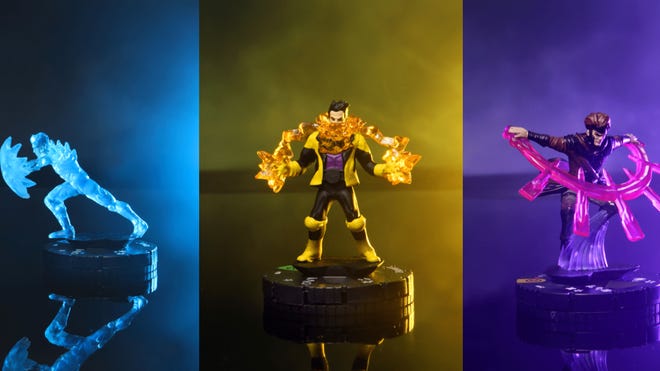 The HeroClix series was briefly cancelled between 2008 and 2009, but returned to include miniatures based on franchises such as Marvel and DC, as well as WWE and Star Trek. All of the sets' miniatures are fully compatible, allowing any combination of characters and universes to be used in a single battle.
Wizkids is also known for releasing several board games such as the fourth edition of horror game Fury of Dracula - which similarly features pre-painted miniatures - and fantasy dice game Quarriors.
The House of X HeroClix set will be released in December, with a standard booster pack costing $15 (£11).