Colourful party board game Hues and Cues is like a psychedelic Codenames
Prismatic play.
Communicate colours using descriptive words in Hues and Cues, an abstract party board game from the makers of co-op board game Harry Potter: Hogwarts Battle.
In Hues and Cues, three to 10 players compete to gather the most points by giving helpful clues and making accurate guesses. Each round, one player draws a card containing a swatch showing four of the many colours found on the Hues and Cues game board - which runs the gamut from lime green to magenta - with each colour corresponding to a different location on the game board.
The active player needs to get the other players to guess the colours on the board closest to the coordinates shown on the card.
To do so, the active player needs to carefully select a phrase they think accurately describes the colours on the swatch and communicate this to the other players, much like party board game Codenames. For example, the active player might receive a card showing a light pink colour and a pastel blue colour, and decides to use the phrase 'cotton candy' to describe it to the rest of the group.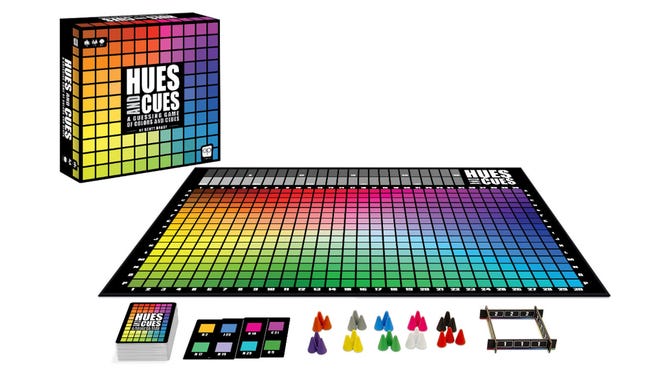 The other players need to then place one of their markers on whichever colour they think the clue most accurately describes. After this, the active player can then give a second clue to help the rest of the group narrow down their selection - enabling them to then place another marker somewhere else on the board.
Points are awarded at the end of each round, with guessing players scoring points depending on how close their markers were to the correct coordinates and the clue giver earning points from how many guesses were accurate.
The party board game then continues until a certain point amount - decided by the players - has been reached or a winner is otherwise declared.
Hues and Cues was designed by Scott Brady, the creator of another upcoming board game Chicken 'n' Waffles - in which players must exchange their cards with those in the middle of the table and decide when to shout "Chicken!" or "Waffles!"
The publisher responsible for Hues and Cues is The Op, the company behind titles such as co-op board game Thanos Rising: Avengers Infinity War, party board game Telestrations and various Star Wars board games, including Star Wars: Dark Side Rising.
Hues and Cues is available from The Op now at a retail price of $24.99/£20.