Keyforge is getting a free co-op mode next month
Forging with a friend.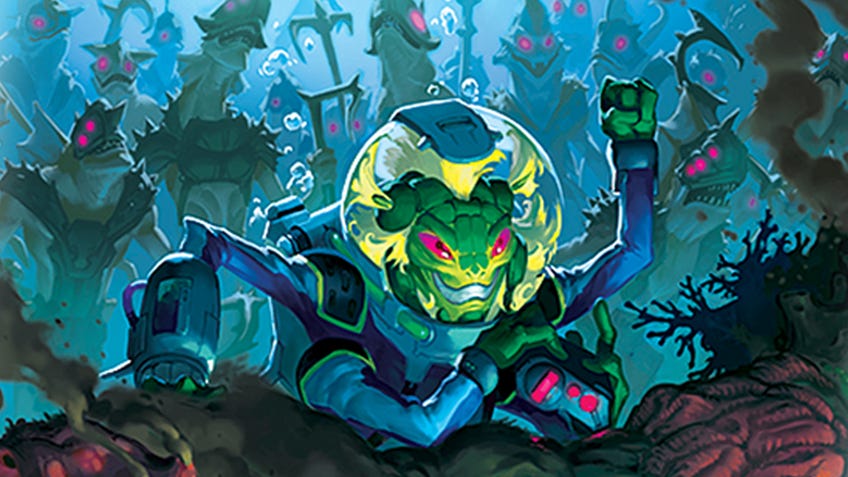 Team up with another player to take on two free scenarios in Keyforge: Adventures, a free co-op game mode releasing for the card game.
Based on the underwater setting introduced in the Dark Tidings expansion, the first two pieces of content in Keyforge: Adventures see players answering a distress call from the Logos organisation. A deep-sea observatory for the society has recently gone quiet, so the players are hired as a group of Archons - treasure hunters in the world of Keyforge - to discover what has happened. Eventually, players will have to face a deadly monster and a zealous cult in order to find their way back from beneath the waves.
The first of the two free adventures has players using a deck of their choice to fight a Keyraken - an ancient beast that has been awakened in order to destroy the Logos observatory. Players must prevent the underwater creature from reaching the surface and weaking havoc by using their cards to gradually reduce its health points. Should the Keyraken successfully gather and spend four Æmber before the players can defeat it, they lose the two-player mode.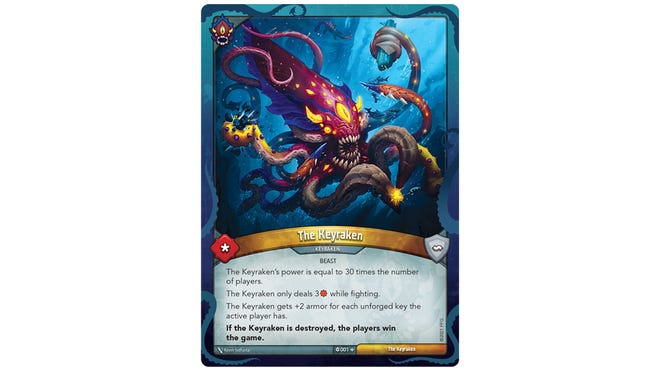 Once players have stopped the Keyraken, they must advance on the cult behind the assault and survive long enough to return home. After their ship is attacked, players must use their Æmber supply to travel to nine different locations to uncover and defeat each new threat, gradually descending into the ocean's depths and towards the heart of the scheming cult
.
Keyforge is a unique deck game for two players set in a sci-fi universe called The Crucible. During a standard game of Keyforge, players compete against one another to be the first to collect enough Æmber to forge three keys. Decks in Keyforge are procedurally generated - meaning that players do not build their own - and contain cards that are categorised into one of three houses.
At the start of each player's turn, they must declare which house they intend to play cards from, using cards of only that house - unless they play a card that allows them to do otherwise. Should a player have enough Æmber to forge a key, they must announce their intentions to do so on the turn before their attempt, thereby giving their opponent the opportunity to stop them.
Keyforge was published by Fantasy Flight Games, the studio also known for releasing several other card games such as Arkham Horror: The Card Game - set in the Arkham Horror Files universe - and the soon-to-be-discontinued Legend of the Five Rings: The Card Game.
The first Keyforge: Adventures scenario will be available to download for free in late April from the Fantasy Flight website, with the second set to be released sometime in May.